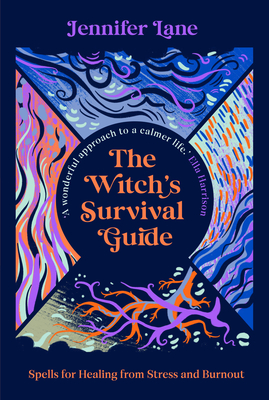 The Witch's Survival Guide
Spells for Stress and Burnout in a Modern World
Paperback

* Individual store prices may vary.
Description
Engaging and genuinely helpful book of pagan spells to relieve modern anxiety and reduce stress, by the author of The Wheel: A Witch's Path Back to the Ancient Self.
The modern world has pushed many of us to
breaking point. Our bodies and minds were not
designed for constant notifications, emails,
meetings and commuting. We were meant for a
very different life - one that connects us with
swaying trees, wild creatures, and the rush of the
elements across our skin. We were meant to see
the magick of being at one with nature.
In the short period that technology has
revolutionised the world, our bodies have not been
able to keep up with the new fast-paced lifestyles
forced upon us, leaving many people burnt out,
frantic and feeling out of control. We are currently
during a stress pandemic.
But what if we were to return to and reconnect
with the green and natural lives our ancestors
would have lived? What if we could tap into the
deep magick that resides in the plants, trees and
ancient places of this world? What if we could use
magick to heal?
This book shows you how you too can take back
control of your busy life through the healing power
of witchcraft. Through guided spell work, those
with a love of green and positive witchcraft can
manage stress and anxiety, harnessing the natural
forces of the four elements - Earth, Air, Fire and
Water - to cure and restore their souls.
September Publishing, 9781914613340, 240pp.
Publication Date: July 4, 2023
About the Author
Jennifer Lane is the author of The Wheel: A Witch's Path Back to the Ancient Self. She has written for Vogue, The Week, Dazed, the BBC, Wildlife Trusts and the RSPB. She discovered Wicca when she was twelve years old and became fascinated by the craft, and since then has woven together her passion for wildlife with a Pagan lifestyle.