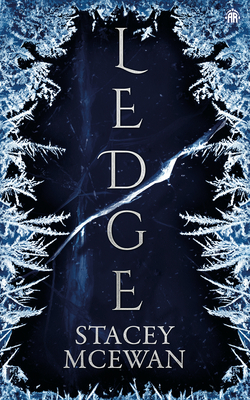 Ledge
The Glacian Trilogy, Book I
Hardcover

* Individual store prices may vary.
Other Editions of This Title:
Paperback (6/27/2023)
Description
Ledge is the heart-stopping beginning to The Glacian Trilogy from TikTok sensation Stacey McEwan @staceboookspace

After being randomly selected as a human sacrifice, instead of death, Dawsyn finds herself on a quest to save her people from their icy prison...
---

In a place known as the Ledge, a civilization is trapped by a vast chasm and sheer mountain face. There is no way for anyone to escape the frozen wasteland without befalling a deathly drop. They know nothing of the outside world except that it is where the Glacians reside – mystical and vicious winged creatures who bring meagre rations in exchange for a periodic human sacrifice.
 
Dawsyn, ax wielder and only remaining member of her family, has so far avoided the annual culling, but her luck has run out. She is chosen and ripped from her icy home, the only world she knows. No one knows what will happen to her on the other side, least of all Dawsyn. Murdered? Enslaved? Worse?
 
Fortunately, a half-Glacian called Ryon offers to help them both escape, but how can she trust one of the very creatures that plagued her life? Dawsyn is a survivor, and she is not afraid to cut anyone down to live.
 
With a slow-burning romance, high stakes and even higher rewards, this richly created new fantasy series by popular TikToker Stacey McEwan will keep you gripped to the very end.

File Under: Fantasy [ Ax-ing For It | The Cold Is Not Alive | Finding Freedom | Ledge-hanger ]
 
*Content warnings* gratuitous violence & death; death of a minor; suicide; attempted sexual assault
Praise For Ledge: The Glacian Trilogy, Book I…
"This book is immediately gripping. I was invested every step of the way, and loved the visceral world of the ledge. The cold might not be alive, but these characters definitely jump off the page, and the enemies to lovers romance hit all the right spots. Stacey's debut novel is a triumph for all fantasy lovers, and I can't wait to see where this series goes!"
—Raven Kennedy, author of The Plated Prisoner series

"The Maas mob will devour this trilogy. Ledge reads like Laini Taylor's lore set in Leigh Bardugo's Fjerda, penned with Katherine Arden's prose. The narrative pacing, playfulness, and deliverance will delight fans of Ilona Andrews' Innkeeper Chronicles and Holly Black's The Folk of the Air."
– Angela Armstrong, author of The Unflinching Ash

"McEwan, a popular figure on BookTok, has written an ambitious fantasy debut. The plot and worldbuilding are thoroughly fleshed out and make this novel a great start to the Glacian Trilogy."
– Library Journal

"A bold and gutsy epic fantasy debut… Lusty at times even rollicking, with formidable fighting, pops of powerful healing magic, and a heroic plot, Ledge will appeal to those seeking new adult romantic fantasy."
– LoveReading

"Despite the icy setting, Ledge is a sizzling story filled with sexual tension, betrayal, and stolen heritage and a series to watch out for."
– British Fantasy Society

"The Bridgerton crowd will love it. But so too will the Buffy crowd… The heroes are compelling, rugged but likeable, and there's a confident immediacy to the present-tense prose."
– SFX Magazine

"A gritty fantasy of betrayal and vengeance set against a clever bit of worldbuilding… Readers looking for a bloody Kill Bill fairy tale (and not a "Beauty and the Beast" charmer) will be more than satisfied."
– Publishers Weekly
Angry Robot, 9781915202161, 288pp.
Publication Date: September 13, 2022
About the Author
Stacey McEwan is a school teacher by day and fantasy writer by night. She is a book influencer on multiple platforms and began writing Ledge after book lovers of the internet begged her to share her story ideas. Stacey lives on the Gold Coast, Australia with her husband, two children and one questionable dog. When Stacey isn't writing, teaching, or making ridiculous tiktoks, you'll find her playing with her children, reading, annoying her husband, or possibly all three at once.