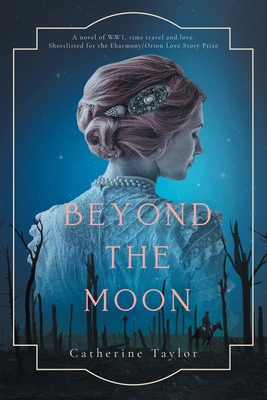 Beyond The Moon
Paperback

* Individual store prices may vary.
Description
Outlander meets Birdsong is this haunting debut timeslip novel, where a strange twist of fate connects a British soldier fighting in the First World War with a young woman living in modern-day England a century later.

*Shortlisted for the Eharmony/Orion Write Your Own Love Story Prize 2018/19
"The characterization is spot-on, as is the historical time-line. Beyond the Moon is not only a page-turner but an intelligent appraisal of medicine, psychology and mental illness over the years. Historical fantasy at its very best." -- Historical Novel Society

"A poignant and stirring love story... Taylor's accomplished, genre-bending book succeeds as a historical novel and a beguiling, time travel romance... The sharply written narrative deftly moves back and forth between the past and present." --Kirkus Reviews
"A time travel romance, yet so much more than that. It is also an unflinching portrait of the horrors of war, and a look at the torturous extremes a human soul can endure. It is a sonnet to the transformative power of love, even as it is also a criticism of the futility and pointless destructiveness of war." -- Shaylin Gandhi, author of By The Light of Embers
In 1916 1st Lieutenant Robert Lovett is a patient at Coldbrook Hall military hospital in Sussex, England. A gifted artist, he's been wounded fighting in the Great War. Shell shocked and suffering from hysterical blindness he can no longer see his own face, let alone paint, and life seems increasingly hopeless.

A century later in 2017, medical student Louisa Casson has just lost her beloved grandmother - her only family. Heartbroken, she drowns her sorrows in alcohol on the South Downs cliffs - only to fall accidentally part-way down. Doctors fear she may have attempted suicide, and Louisa finds herself involuntarily admitted to Coldbrook Hall - now a psychiatric hospital, an unfriendly and chaotic place.

Then one day, while secretly exploring the old Victorian hospital's ruined, abandoned wing, Louisa hears a voice calling for help, and stumbles across a dark, old-fashioned hospital room. Inside, lying on the floor, is a mysterious, sightless young man, who tells her he was hurt at the Battle of the Somme, a WW1 battle a century ago. And that his name is Lieutenant Robert Lovett...
Two people, two battles: one against the invading Germans on the battlefields of 1916 France, the other against a substandard, uncaring mental health facility in modern-day England. Two journeys begun a century apart, but somehow destined to coincide - and become one desperate struggle to be together.
Part WW1 historical fiction, part timeslip love story - and at the same time a meditation on the themes of war, mental illness, identity and art - Beyond The Moon sweeps the reader on an unforgettable journey through time. An intelligent read, perfect for book clubs.

For fans of Diana Gabaldon, Amy Harmon, Beatriz Williams, Kate Quinn, Kristin Hannah, Kate Morton, Susanna Kearsley and Paullina Simons.
Cameo Press Ltd, 9781916093218, 494pp.
Publication Date: June 26, 2019