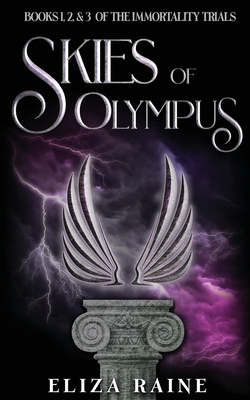 Skies of Olympus
Books One, Two & Three
Paperback

* Individual store prices may vary.
Description
Twelve deadly Trials. A race for immortality. Her last chance for revenge.

Olympus is a beautiful but dangerous place, controlled by twelve gods wielding unlimited power. Now they have devised the a new kind of entertainment; a chance for their favourites to compete in twelve Trials to win the ultimate prize - immortality.

Lyssa didn't think the Gods knew who she was, until she was chosen to try out for the Trials with the crew of her old but beloved smugglers ship, the Alastor. For her the Trials are about much more than an eternal life. They're about stopping the monster from her past gaining the one thing that would put her revenge out of reach forever. Can she face her murderous father and stop him from becoming immortal?
Lyssa takes on the deadly Trials alongside giants, centaurs, satyrs and gods in the first three of twelve episodes of this Greek mythology fantasy retelling.
Logic in Creativity, 9781916104600, 336pp.
Publication Date: April 25, 2019