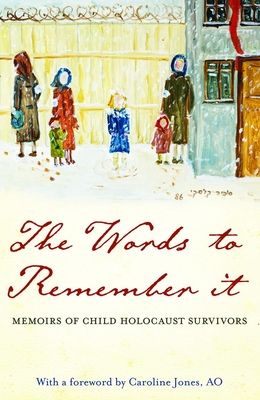 The Words to Remember It (Paperback)
Memoirs of Child Holocaust Survivors
Scribe Us, 9781921372636, 352pp.
Publication Date: May 4, 2009
* Individual store prices may vary.
Description
'These are stories to move the heart profoundly; to elicit gratitude for all that we have; powerful stories to make us determined to speak out and take action against prejudice or hateful gossip; stories to encourage a vigorous, constructive questioning of authority; stories to remind us always that the price of liberty is, indeed, eternal vigilance, by all the people, on behalf of all the people.' -- from the foreword, by Caroline Jones, AO
Accurate numbers can never be known, but it is estimated that more than one million children under the age of 16 perished during the Holocaust. For the children who survived, what they saw and heard, and what they lost, remains an indelible trauma that affects them in profound and unspeakable ways.
In 1987 in Sydney, a number of child survivors formed a group so that they could meet in a safe environment to share their stories and begin to process their grief. Later, the group began creative writing sessions.
For many, finding ways to remember was the beginning of a painful reintegration of their sense of self -- a realisation that they were, in fact, child survivors of the Holocaust. In telling their stories, there was relief to be found in finally connecting their memories with context and meaning, and in having them validated. In the process, many found themselves remembering more and more details, and the stories grew and grew into a broad picture of life before, during, and after the Second World War, from Paris to Warsaw, Berlin, Prague, Vilno, and Shanghai.
In this indescribably moving collection, 30 members of the group share their unfathomable experiences of loss, and the stories of their ultimate endurance.
About the Author
The Sydney Child Holocaust Survivors Group was founded in 1987 by U.S. child psychologist Sarah Moskowitz. It is a part of the World Federation of Jewish Child Survivors of the Holocaust which aims to support each other and pass on their legacy to future generations by sharing survival stories, interacting with communities, holding conferences, and fighting anti-Semitism.
or
Not Currently Available for Direct Purchase