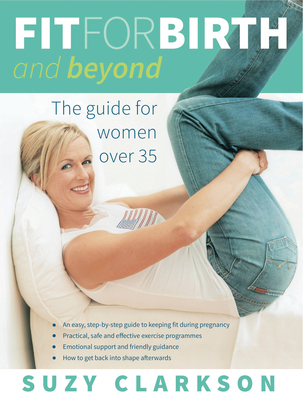 Fit for Birth and Beyond (Paperback)
The guide for women over 35
Exisle Publishing, 9781921497643, 256pp.
Publication Date: March 15, 2015
* Individual store prices may vary.
Description
Many older women spend months, if not years, trying for motherhood, then endure an anxious pregnancy wondering if they are eating and exercising properly. Fitness expert Suzy Clarkson has been there. Her first pregnancy at the age of 38 was relatively trouble-free, but trying to get pregnant again a few years later was very different. Following fertility treatment, she finally gave birth to her second child at the age of 45.
Qualified in physiotherapy, Suzy has now devised a practical guide to assist older women through their pregnancies, using her own experiences of motherhood to support her text. This easy-to-follow fitness program will take you through each trimester, showing suitable exercises and suggesting how to develop healthy habits to achieve a safe outcome, a successful childbirth and a speedy recovery afterwards. The book is fully illustrated with step-by-step photographs showing the exercises in detail. The information she provides is based on the latest research, and is endorsed by leading specialists in obstetrics and fertility.
But the book is more than its exercises. Suzy is a 'real mum' who offers encouragement and a compassionate helping hand to all older mothers. Fit for Birth and Beyond is the guide you can trust and use with confidence.
About the Author
Suzy Clarkson, Dip PHYS, PG Dip BJ originally qualified as a physiotherapist in 1988. She then went on to an extensive and successful career in broadcasting, completing a postgraduate diploma in broadcast journalism (England 2002) before becoming a television news presenter for six years. Her book on general health and wellbeing, Healthy Body Healthy Mind, was published in 1997. She has also created and produced four aerobic videos: Fit Kit, Fit Kit 2, Fitness Plus and Move It. She currently lives in Auckland.
or
Not Currently Available for Direct Purchase