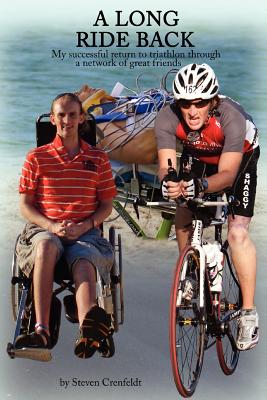 A Long Ride Back (Paperback)
Steven Crenfeldt, 9781921883279, 250pp.
Publication Date: March 20, 2012
* Individual store prices may vary.
Description
If you pick up this book hoping to read an extraordinary story about a really awesome, talented athlete, who had major obstacles to overcome; did so and came back to the top level of their chosen sport, then sorry, but you might be a little disappointed Maybe try a book about multiple Tour De France winner and cancer survivor, Lance Armstrong; AFL superstar James Hird; paraplegic athlete John Maclean; or even All Black legend Jonah Lomu, because I am nothing like those people. This book is about an average guy, who participated in Ironman and Half Ironman Triathlons, simply because I could. No podium finishes, just pleased to make it across the finish line. This is the story of how I got back doing the sport that I love, after a serious bike accident. It is about how an event can change your life and how your network of friends surround you and give you the greatest chance of success, more than you would ever be able to achieve on your own. The capacity for physical recovery is remarkable with the scars a mark of the trauma and the subsequent journey made possible when you add in the elusive mental strength.Prof. Fiona Wood FRACS AM Winthrop Professor, BIRU, School of Surgery, UWA Chair, The McComb Research Foundation Steve's story shows that the journey to Ironman WA (or equivalent), is just an analogy for life. To succeed is to love the journey, not just celebrate at the finish line. Mitchell Anderson Ironman Champion, MBBS, Raconteur.