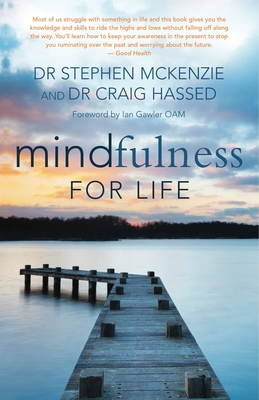 Mindfulness for Life (Paperback)
Exisle Publishing, 9781921966033, 312pp.
Publication Date: March 15, 2015
* Individual store prices may vary.
Description
Mindfulness for Life is the only book you'll ever need on mindfulness and has been for over 4 years. Since its release in 2012, Mindfulness for Life has established itself as the essential resource for those searching for the intangible qualities often lost in the fast pace of modern day life.
It shows you how to apply mindfulness techniques to your own life whether you need help with medical conditions, personal development or spiritual development.
This modern classic includes chapters on:
stress and ageing
anxiety
depression
addiction
attention deficit orders
pain, weight management
eating disorders
heart disease and stroke
cancer
dementia
sleep
lifestyle
education
workplace
parenting
sporting enhancement
self-actualisation
happiness
enlightenment development.
Mindfulness for Life is written by two experts in the field who bring the medical perspective of an international authority on mindfulness and the psychological perspective of a researcher. The result is this highly regarded title that translates the scientific principles behind mindfulness into a simple, practical and accessible manual to applying mindfulness - for life. Only a few minutes a day can start to change your life.
With multiple reprints since its first release, find out today why Mindfulness for Life continues to change lives and remains a forerunner in the ongoing 'Mindfulness Revolution'.
About the Author
Dr Stephen McKenzie is a researcher, lecture and writer with years of clinical and teaching experience in many areas of psychology including depression, dementia, substance abuse and mindfulness. He has written several books including Exisle's Mindfulness at Work and with Craig Hassed, Mindfulness for Life. Dr McKenzie lectures in psychology at Melbourne's Monash University, and is the Co-Course Convenor and developer of the large new fully online Graduate Diploma of Psychology Advanced (GDPA), Australia's largest accredited Fourth Year Psychology course. Stephen's books include Vital Statistics, Elsevier, 2013; Heartfulness: Beyond mindfulness, finding your real life, Exisle, 2016. 
Dr Craig Hassed is an internationally recognized expert in mindfulness who has been instrumental in promoting mindfulness as a simple and accessible technique forenhancing wellness, preventing and managing illness, and improving performance within health, educational and corporate settings. He is the founding president of the Australian Teachers of Meditation Association.
Praise For Mindfulness for Life…
"Mindfulness for Life is the complete guide to learning how to master the art of paying attention to what is going on in our lives right now." - Art of Healing
"As a daily practice it can increase your sense of happiness and wellbeing - best thing is, anyone can do it!" - Take 5
"Mindfulness for Life brings the medical and psychological perspective as well as scientific principles behind mindfulness. The authors identify how mindfulness can be used as clinical treatment and prevention of illness, through making people calmer, happier and healthier beings." - Australian Nursing Journal
"Mindfulness for Life is an eye-opening book about de-stressing and reconnecting, just by paying attention to what.s going on in each moment." - Practical Parenting
"As well as being a practical guide to mindfulness, this book actually provides the specific applications for many different conditions, like Depression, Addiction, Pain, Heart Disease, Weight Loss and many other issues." - Insight Magazine