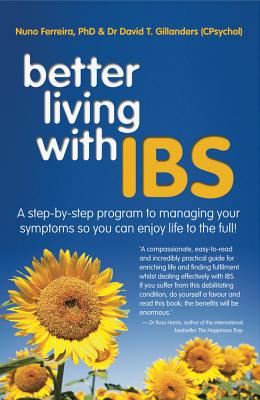 Better Living With IBS (Paperback)
A Step-By-Step Program to Managing Your Symptoms So You Can Enjoy Life to the Full!
Exisle Publishing, 9781921966149, 192pp.
Publication Date: August 15, 2015
* Individual store prices may vary.
Description
If you suffer from Irritable Bowel Syndrome, you know just how much of an impact IBS has had on you. Have you cut back on your hobbies? Do you see less of your friends? Do you constantly worry about how IBS symptoms might affect your daily activities? If so, Better Living with IBS can give you back the life you long for! Structured in a clear, easy-to-use workbook format, with lots of practical exercises, Better Living with IBS is your guide to living a happier, richer, more fulfilling life. The step-by-step program, based on Acceptance and Commitment Therapy (ACT), will give you the mental tools to deal effectively with your IBS symptoms. Instead of constantly fighting your symptoms, this approach will teach you how to step away from the struggle, and in so doing, substantially reduce their impact.
About the Author
Nuno Ferreira is a qualified clinical psychologist who has worked with several services in Portugal and in the United Kingdom. He spent two years as a research associate at the University of Edinburgh, investigating basic emotions. He has completed a PhD by research at the University of Edinburgh, pursuing his interest in the application of evidence-based psychological models for the management of IBS.
David T. Gillanders is a chartered clinical psychologist and academic director for the doctoral programme in Clinical Psychology at the University of Edinburgh. He combines teaching, training, research and clinical work, and has interests in Acceptance and Commitment Therapy, particularly as it applies to helping people to live successfully with chronic physical health problems.