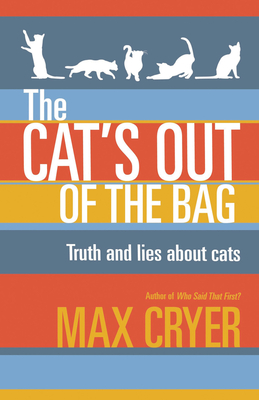 The Cat's Out of the Bag
Truth and Lies about Cats
Paperback

* Individual store prices may vary.
Description
We cannot get enough of cats: from ancient times they have occupied a special place in many different cultures around the world. They have also generated a fascinating array of words, expressions and observations, as well as poems, books, movies, cartoons and artworks. In this witty and entertaining book, Max Cryer celebrates cats and allthey have given to us.
He describes the many words and expressions they have inspired, from 'catnip' and 'catwalk' to 'the cat's whiskers' and 'raining cats and dogs', as well as famous cat characters like Garfield, Felix the Cat, The Cat in the Hat and Puss in Boots, songs as varied as 'What's New Pussycat?' and 'The Cats' Duet', and poems like 'The Owl and the Pussycat' and 'Hey Diddle Diddle'. The cats owned by famous celebrities are described, from Elizabeth Taylor's 'Jeepers Creepers' to Dr Johnson's 'Hodge'. In other chapters he explores cats' attributes, the strength of their night vision and sense of smell, their sleep requirements, life expectancy and much more. Surprising facts - and spurious fictions - can be found on almost every page.
Everything you ever wanted to know about cats can be enjoyed in this magnificent compendium of a book. It is a delight from beginning to end to be read with one on your lap.
Praise For The Cat's Out of the Bag: Truth and Lies about Cats…
"Exploring fascinating facts about cats as well as celebrating their importance in cultures around the world ...."- NZ Books
"One need not be an ailurophile to enjoy Cryer's examination of all things cat -- the origins of phrases such as "it's raining cats and dogs," a look at felines' sense of hearing and eating habits, cat fables and cats in music. And an ailurophile? A person who loves cats." - Chicago Tribune
Exisle Publishing, 9781921966545, 192pp.
Publication Date: September 1, 2015
About the Author
Max Cryer is a seasoned researcher and writer on aspects of the English language. A well-known broadcaster and entertainer, he hosts a weekly radio slot on the subject. He has had a long and varied career, in which he has been a schoolteacher, a compere and TV host, as well as a singer in London, Las Vegas and Hollywood. Throughout it all his love of language has remained prevalent, and he is now a full-time writer based in New Zealand.
or
Not Currently Available for Direct Purchase