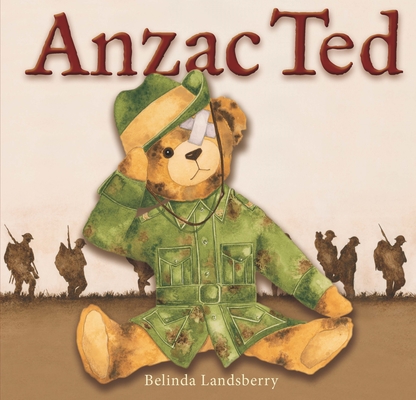 Anzac Ted (Hardcover)
EK Books, 9781921966569, 32pp.
Publication Date: February 15, 2016
* Individual store prices may vary.
Description
Anzac Ted is the powerful, poignant story of a little boy's teddy bear that was passed down to him from his grandfather. Battered, torn, missing an eye and an ear, he might look scary but he's got a great story to tell. For Anzac Ted went to war, keeping soldiers company and giving them comfort. And while he never won a medal, and now doesn't even attract a single vote at classroom Toy Shows, if only everyone looked a little deeper:
"They'd see a hero, plain as day, Who sits upon my bed. A hero, who saved me and you. His name ... is Anzac Ted."
While several children's picture books cover the world wars, none has ever made the conflict so accessible to children by telling the story of a bear who went to war. Belinda's exquisite watercolour illustrations combine with her rhyming text to create a book that, while perfect for parents and teachers to share with children, is also guaranteed to touch the heart of every adult.
About the Author
Belinda Landsberry is an award-winning author and illustrator, and a dedicated mother, grandmother, dog wrangler and cat whisperer. She has a Diploma of Teaching (K–6) with a major in Fine Arts, a Diploma of Graphic Design, and has trained as a nurse, copywriter, primary school teacher and art director. Belinda's passion for words and pictures was evident from a very young age; at just seven, she wrote and illustrated her first picture book, entitled How to Become a Nurse. This beloved relic delights both students and teachers alike during Belinda's author–illustrator visits to schools for Book Week. Belinda's best-selling debut children's picture book, Anzac Ted, is published internationally and was short-listed for the 2016 Western Australian Young Reader's Book Awards. It was also featured in the Anzac Stories: Behind the Pages Exhibition 2017–2018, hosted by schools and libraries throughout Australia and New Zealand. Belinda grew up in Normanhurst, Sydney, and now lives on the north shore with her family. She also has a dog called Jersey and two very naughty cats who lie on her keyboard, her art desk and anywhere else they're not supposed to be.
or
Not Currently Available for Direct Purchase