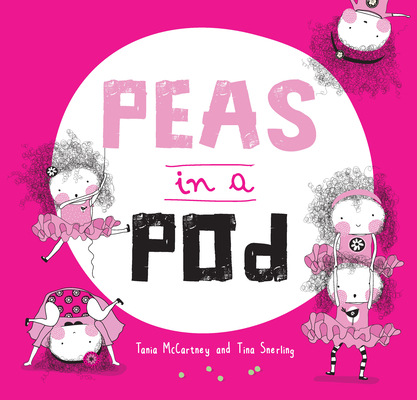 Peas in a Pod
Hardcover

* Individual store prices may vary.
Other Editions of This Title:
Paperback (11/1/2016)
Description
Pippa, Pia, Poppy, Polly and Peg are quintuplets. Since birth, they've done everything the same -- cry, eat, sleep, sit. But as they get a little older, things start to change. Now they want to do things differently -- very differently. Can Mum and Dad keep their little girls as matching peas in a pod, or will those five very individual personalities win out in the end?
Gorgeous illustrations perfectly complement this simple yet highly entertaining storyline. Sure to be enjoyed by kids and their parents!
Praise For Peas in a Pod…
"Pippa, Pia, Poppy, Polly, and Peg are as alike as the title would indicate: poppets with naturally curly hair, button-dot features, and patches of color on their cheeks.They behave the same in all things, including spilling their milk, eating (rather messily), and squinching up their eyes while using the potty (an extremely discreet image; only the stray rolls of toilet paper indicate what is going on). And they sleep, each and all, on their backs, each holding a small bunny stuffie and sucking on one little finger. This cannot last, and as they grow older, they throw off the shackles of parental unanimity, starting with their hair: one always wears a crown; another does hers in multiple braids; one uses colored hair gel to great effect; and so on. It doesn't take long for the quints to choose their own clothes, their own hobbies and activities (guitar, painting, knitting, reading, electronic doodads), and their own dreams. When readers see them last, however, they are snuggled all in the same bed with their bunnies and one finger in each mouth, just as when they were babies. Bright color and lively line define their hair and their other attributes as the five figures inhabit the white space of the backgrounds. Adorable - that just about sums it up." - Kirkus
"It celebrates individuality and personality. It delivers the subtle message that everyone is unique, even if others don't see you that way. The illustrations are simple and gorgeous." - Batch of Books, 5 stars
"This is a wonderful way to talk to students about not only finding their inner self, but having the courage to stay true to it .....Loved it!" - Bottom Shelf
"...a wonderful book to use in the classroom or at home to teach children about uniqueness and finding the real you."—
Educating Young People
EK Books, 9781921966712, 32pp.
Publication Date: July 1, 2015
About the Author
Tania McCartney is an author, editor, reviewer and features writer. She has been writing professionally for over 25 years and has almost a thousand articles and reviews in print and online. Passionate about literacy, Tania founded the highly regarded children's literature website Kids' Book Review and the 52-Week Illustration Challenge, and is an ambassador for the Australian National Year of Reading 2012. She has spent many years presenting and speaking on reading, books and writing.
Her previous book with Tina Snerling was the bestselling An Aussie Year. Tania is also the author of the very successful Beijing Tai Tai. Described as 'The Eat, Pray, Love for mothers', this is her account of the four years she spent living in China's capital. Tania has also lived in Paris and London, and currently lives in Canberra with her husband and two kids, and a mountain of books.
Tina Snerling is an illustrator, children's wear designer and graphic artist. Formerly a fashion and textiles designer, she now illustrates the award-winning Kids' Year series and other picture books, and is the Art Director for a children's stationery company. She lives in Brisbane with her husband, two kids and a wild imagination to draw the world with childhood innocence.
or
Not Currently Available for Direct Purchase