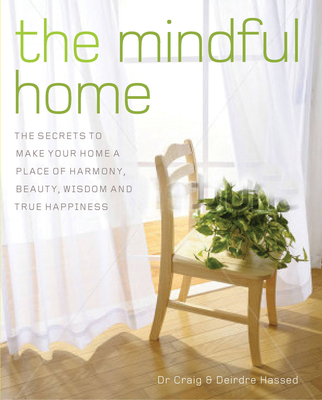 The Mindful Home
The Secrets to Making Your Home a Place of Harmony, Beauty, Wisdom and True Happiness
Paperback

* Individual store prices may vary.
Description
A house is merely physical but a home is far more subtle and elusive. The Mindful Home takes the view that being 'at home' is a metaphor for finding ourselves and our core. Home is about qualities that we could equate with 'good' itself – true happiness, peace, beauty, wisdom and inspiration. It is also about the good things in life such as harmony, relationships, health and wealth.

Mindfulness can help us find our core and create a home that reminds us of the qualities associated with it. By exploring the ways in which we feed our mind and our heart through our senses, how we use space, the practicalities of managing a home, and how we can live a healthy and sustainable life at home, The Mindful Home will enable us to shape the living space we really want, creating an environment that both nurtures and invigorates us, while meeting our needs. 

The two megatrends of Mindfulness and Home Improvement are combined in a beautiful, useful book, which has attracted enormous interest around the world as the only book of its kind. Sections include Philosophy of The Mindful Home, The Five Senses The Five Spaces, and Home as a Healthier Environment.

Beautifully designed, this is the ultimate guide to the art of conscious living. Learn to create a nurturing home and mindfully care for yourself and your family.
Praise For The Mindful Home: The Secrets to Making Your Home a Place of Harmony, Beauty, Wisdom and True Happiness…
"A mindfulness teacher and an artist offer instruction on using the senses and taking a mindful approach in order to create a beautiful peaceful environment." - Publishers Weekly
"...this tome will be useful for those who are practicing this increasingly popular process presented by Craig Hassed, a doctor and expert in the field, and those desiring an aesthetically pleasing home." - Library Journal
Exisle Publishing, 9781921966811, 240pp.
Publication Date: November 1, 2015
About the Author
Associate Professor Craig Hassed OAM is an internationally recognised expert in mindfulness who has widely presented at national and international seminars and conferences and has published extensively in the areas of mind–body medicine and mindfulness. Dr Hassed has devised and presented innovative mindfulness training programs as part of the core curriculum for medical and many other students at Monash University. His programs have also been included in elective programs at other universities in Australia and overseas. He has worked with many other experts in the area of mind–body medicine and mindfulness, and has been instrumental in promoting mindfulness as a simple, natural and accessible technique for enhancing wellness, preventing and managing illness, and improving performance within health, educational and corporate settings. Hassed is co-author of the two top-ranked online mindfulness courses in the world. He was the founding president of the Australian Teachers of Meditation Association, now Meditation Australia, and in 2019 received the medal of the Order of Australia for services to medicine.
Deirdre Hassed has had a fascination with handwriting since childhood, often delving into her grandfather's old sign-writing box with its treasure trove of brushes, gold leaf and finely crafted steel pens. This hobby eventually led to the pursuit of a career in the craft of calligraphy and hand lettering. Deirdre trained in calligraphy and bookbinding and now works from the tranquil space of her purpose-built studio. A deep interest in philosophy underpins her life, with the wisdom traditions of the world offering a rich reservoir of texts to inspire her calligraphic works.