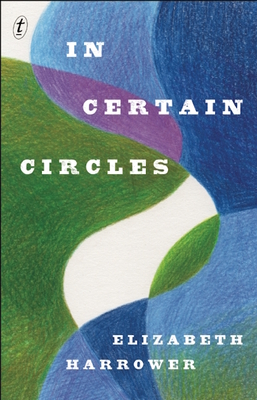 In Certain Circles (Hardcover)
Text Publishing Company, 9781922182296, 252pp.
Publication Date: September 9, 2014
Other Editions of This Title:
Paperback (9/15/2015)
MP3 CD (12/15/2017)
* Individual store prices may vary.
Description
'Harrower was right about
In Certain Circles
being well written, but surely wrong to take its superb style for granted, as if mere literary muscle memory...The book belongs with her best work, with
The Watch Tower
and
The Long Prospect
... It] is more explicit than Harrower's earlier work about ideological tensions between men and women. It is also broader in scope and not as angry--wiser and less hopeless.' James Wood,
New Yorker
'Like a treasure from an unearthed time capsule...Harrower is one of the great Australian writers of the postwar era...Harrower's fearsome objectivity and her bristling, beautiful prose come from modernist masters like Katherine Mansfield and Elizabeth Bowen...Zoe's struggle, her suffering, her hard-earned knowledge are sharp and alive. You feel the book must have been written last week rather than last century.'
Wall St Journal
'With its flavor of Henry James, Harrower's rediscovered story is an odd, brittle yet impressive piece of work that exposes the complex passions beneath a drawing-room-scenario surface.'
Kirkus Reviews
'Harrower's prose is watchful, witty, unillusioned, exultant. Its healthful vitality - vivid, accurate, alive to irony - is a dashing stand against its subject matter: human perversity, so often squalid, senseless, swallowing all meaning. The reader marvels at its balance, its sinuousness, as each fresh wave hits....There is a note of elegy in all of Harrower's work, even as the adrenaline flows, and a lyricism reminiscent of F.Scott Fitzgerald at his desperate best.'
Times Literary Supplement
In Certain Circles
is the novel Elizabeth Harrower wrote after the release of
The Watch Tower
. The author withdrew this novel before publication in 1971, and it has languished in a library for four decades.
In Certain Circles is an intense psychological drama about family and love, tyranny, and freedom. Set amid the lush gardens and grand stone houses that line the north side of Sydney Harbour, it follows the lives of four unforgettable characters whose fates are intertwined.
Harrower is one of Australia's most important postwar writers. Never before published, In Certain Circles is one of the most anticipated releases of the season. Text's Classic edition of The Watch Tower has been reviewed in literary pages across the globe.
Elizabeth Harrower was born in Sydney in 1928. Her first novel, Down in the City, was published in 1957 and was followed by The Long Prospect (1958) and The Catherine Wheel (1960). Harrower published The Watch Tower in 1966. Four years later she finished In Certain Circles, but withdrew it before publication for reasons she has never publicly spoken of.
About the Author
ELIZABETH HARROWER was born in Sydney in 1928. She lived in Newcastle until her family moved back to Sydney when she was eleven.In 1951 Harrower travelled to London and began to write. Her first novel, DOWN IN THE CITY, was published there in 1957 and was followed by THE LONG PROSPECT a year later. In 1959 she returned to Sydney, where she worked in radio and then in publishing. Her third novel, THE CATHERINE WHEEL, appeared in 1960.Harrower published THE WATCH TOWER in 1966. Four years later she finished a new novel, IN CERTAIN CIRCLES, but withdrew it from publication at the last moment, in 1971. It remained unpublished until 2014.IN CERTAIN CIRCLES is Harrower's final completed novel, though in the 1970s and 1980s she continued to write short fiction. She is one of the most important postwar Australian writers. She was admired by many of her contemporaries, including Patrick White and Christina Stead, who both became lifelong friends. Her novels are now being acclaimed by a new generation of readers and writers.Elizabeth Harrower lives in Sydney.
What "circles" is the title referring to?
Why is Zoe immediately attracted to a man who is dismissive of her, who does not exalt her as everyone else does?
Is Russell damaged? Do you blame him for the damage he does to others?
Why don't we ever meet Joseph directly even though he was Zoe's lover during a significant period of her life?
Despite sharing the same childhoods, Stephen and Anna act and feel very differently to one another? Why?
Anna reflects in her diary that she doesn't want to be Zoe, and that 'All that has happened feels necessary. I can't picture it different. I would not want to be someone else' (77). Is Anna unique in this among the characters?
Early on, when she is getting to know Stephen, Zoe thinks, 'Something in him took her from the pink marshmallow castle of her life to a high cliff over the ocean in the real world' (43). Is this an accurate reflection of Stephen's transformation of Zoe's life? Is Zoe in the real world when she marries Stephen? After she marries him, she reflects that 'she had turned into this new thing—a suppliant, but a suppliant with a purpose: all to be well with Stephen. She had fallen through him into the universe, into her real self' (129). What is Zoe's real self?
Imagining describing her relationship with Stephen to a hypnotherapist, Zoe says, 'But I'm the guilty party…I let it happen. Let the words be said, and listened. Agreed to be devalued to the point where I'm of less consequence than anyone in the world' (152). Is Zoe at fault for the situation she finds herself in?
To what extent is Stephen at fault for his behaviour?
Does the novel paint an irredeemably negative picture of marriage? Do you think Russell and Anna going to be 'extremely happy', as Lily declares they will be?
Anna suggests that something between her experience and Zoe's would be best for preparing for life. 'Some life with great variety…with some rigour and real encounters. Whatever they might be. More connections with the varieties of reality' (165). She then shrugs 'with self-derision', but does she mean it? Can you define an 'ideal preparation for life?
Talk about the importance of work to the characters and how they view its importance (a view that changes for most of them over the course of the novel).
In the car with Russell, Anna 'felt her skeleton waver secretly, as though it were seaweed pressed about by movements of deepest seas, invisible on the glittering surface' (133). Discuss Harrower's descriptions of her characters' experiences of emotion.
In Certain Circles explicitly grapples with feminist themes. Talk about Harrower's portrayal of both women and of feminist ideas.
Zoe jokes with Stephen about the 'national inferiority complex' (127). In such a psychological novel, how important are broader political issues like the cultural cringe?
This novel was written in 1971, but was only published in 2014. Is it as relevant now as it was when it was written? Or, indeed, are we able to appreciate it more now?