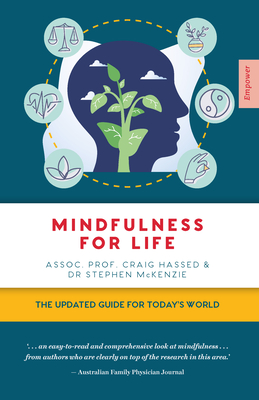 Mindfulness for Life
The Updated Guide for Today's World (Empower)
Paperback

* Individual store prices may vary.
Description
Mindfulness is a form of mental training that centres on being fully present in life; focussing on what is rather than being distracted by what isn't. Mindfulness for Life is written by two experts in the field who bring the medical perspective of an international authority on mindfulness and the psychological perspective of a researcher. The result is a book that translates the scientific principles behind mindfulness into a simple, practical and accessible manual to applying mindfulness in your own life.
This revised and updated second edition includes:
New research on the science of mindfulness and its clinical applications
An in-depth look at how mindfulness links to mental health, ageing, addiction, pain, emotional intelligence, and a variety of other topics
Details on the benefits of mindful living, including reduced anxiety and depression, improved sleep, coping better with major illnesses, making healthy lifestyle changes, improved leadership skills, achieving a sense of peace, and more
A completely revised section on forming and maintaining mindful relationships with your friends and family.
Mindfulness has been around for millennia, but recent years have seen huge advancements in its potential for directly increasing our wellbeing. Take a leap towards mindful living and you might just discover that you become a calmer, happier and healthier being — for life.
Empower, 9781922539014, 272pp.
Publication Date: July 27, 2021
About the Author
Associate Professor Craig Hassed OAM is an internationally recognised expert in mindfulness who has widely presented at national and international seminars and conferences and has published extensively in the areas of mind–body medicine and mindfulness. Dr Hassed has devised and presented innovative mindfulness training programs as part of the core curriculum for medical and many other students at Monash University. His programs have also been included in elective programs at other universities in Australia and overseas. He has worked with many other experts in the area of mind–body medicine and mindfulness, and has been instrumental in promoting mindfulness as a simple, natural and accessible technique for enhancing wellness, preventing and managing illness, and improving performance within health, educational and corporate settings. Hassed is co-author of the two top-ranked online mindfulness courses in the world. He was the founding president of the Australian Teachers of Meditation Association, now Meditation Australia, and in 2019 received the medal of the Order of Australia for services to medicine.
Dr Stephen McKenzie has over thirty years of experience in researching and teaching a broad range of psychological areas, including depression, dementia, substance abuse, and most recently, mindfulness. Dr McKenzie has a unique ability as a lecturer, researcher and writer to present potentially complex information in a warm, engaging and entertaining way. He is currently a Senior Lecturer at the University of Melbourne's School of Psychological Sciences, where he is developing a range of new and innovative online courses on topics including wellbeing, mindfulness and mindfulness in clinical practice. He is also an online course supervisor and adviser at Monash University, where he won the Dean's Award for excellence in Education for his leading of the development of an online research portal. Dr McKenzie's other books on mindfulness are Mindfulness at Work and Heartfulness: beyond mindfulness – finding your real life.