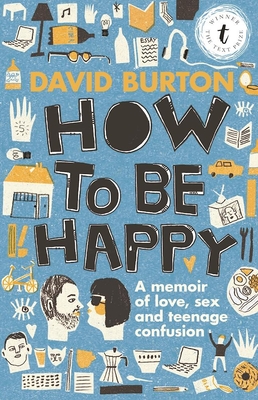 How to Be Happy (Paperback)
A Memoir of Love, Sex and Teenage Confusion
Text Publishing Company, 9781925240344, 268pp.
Publication Date: April 11, 2017
* Individual store prices may vary.
Description
'Burton's descriptions of his anxiety and depression are tangibly poignant, giving authentic voice to those struggling with similar issues. His tone morphs fluidly from compulsively funny to devastating from one moment to the next, and his uproarious wit shines throughout. A heartfelt, accessible book that strives to break down the stigmas surrounding mental illness with remarkable humor and honesty.'--
Kirkus
Winner of the 2014 Text Prize for Young Adult and Children's Writing
'Delivers some devastating truth bombs. Sexuality is hard. Identity is hard. Love is hard. School is hard...This book shines a much-needed light back through the tunnel. It is a call-out to teenagers still struggling to find their way.'--Books + Publishing
A funny, sad and serious memoir, this is David Burton's story of his turbulent life at high school and beyond. Feeling out of place and convinced he's not normal, David has a rocky start. He longs to have a girlfriend, but his first 'date' is a disaster. The same debilitating anxiety cripples his encounters with boys.
He carefully constructs an outgoing identity--an extroverted, adventurous character, for whom everything is fine. But everything is not fine. At the center of it all, trying desperately to work it all out, is the real David.
How to Be Happy tackles depression, friendship, sexual identity, suicide, academic pressure, love and adolescent confusion. It's a brave and honest account of one young man's search for a happy, true and meaningful life.
David Burton is a writer from Brisbane, now based in Sydney, best known for his theatre work. A speaker and presenter in school across Queensland, David is passionate about finding ways to open dialogue about the challenges faced by teens including sexual identity, depression and family life.