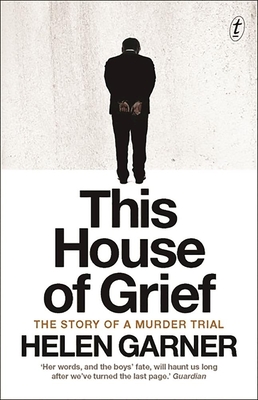 This House of Grief (Paperback)
The Story of a Murder Trial
Text Publishing Company, 9781925240689, 320pp.
Publication Date: March 29, 2016
* Individual store prices may vary.
Description
Winner, Honorable Mention, 2015 INDIEFAB Book of the Year Awards, True Crime category Helen Garner won a 2015 Windham Campbell Prize for her outstanding contribution to international literature. 'Garner's book is superbly alive to the narrative dynamics of the case; she tells a grim story of unhappy marriage, limited social opportunity, bitter divorce, and spousal grievance...what consumes her are the difficult questions that seem to lie beyond the reach of formal narration: the deepest assumptions of class and gender and power; the problem of how well we ever understand someone else's motives.'--James Wood in
The New Yorker
'Grabbed me by the throat in the same way that the podcast series "Serial" did. Ms. Garner brilliantly and compassionately recounts the harrowing, real-life trial of Robert Farquharson.'--Gillian Anderson,
Wall Street Journal
'As involving, heart-rending and unsettling a read as you could possibly find, a true-life account of three deaths and a trial that leaves you with a profound sense of unease as its drama unfolds, and disturbing questions about how we judge guilt and innocence. . . . Tailor-made for those who have gorged recently on the popular true-crime podcast Serial.'--The Times UK
'"The Joan Didion of Australia" writes a masterful book about a real-life family tragedy.... Her voice--intimate yet sharp, wry yet urgent--inspires trust as she pursues a twice-told tale that reveals an unsettling truth... we tell ourselves stories in order to live but also in order to take revenge, to share guilt, to prolong pain, to blur memory and motive.'--The Atlantic
'A gripping account of a murder trial in which few of the participants act and react in ways we might predict. It's an examination not just of what happened, but also of what we prefer to believe and what we cannot face believing.'--Julian Barnes
'Two books in one: an expertly reported, brilliantly written story and, woven into that, Garner's meditation on the meaning of that story.'--Head Butler
'Helen Garner is an invaluable guide into harrowing territory and offers powerful and unforgettable insights. This House of Grief, in its restraint and control, bears comparison with In Cold Blood.'--Kate Atkinson
This account of the competing narratives unfolding in the courtroom during a murder trial has attracted international acclaim. First published in April 2015 it is now released in a handsome B format edition.
Helen Garner is the author of numerous books of fiction and non-fiction. Her most recent novel The Spare Room was published to critical acclaim in 2010.
About the Author
Helen Garner was born in 1942 in Geelong, and was educated there and at Melbourne University. She taught in Victorian secondary schools until 1972, when, having been dismissed for answering her students' questions about sex, she began start writing journalism for a living. Her first novel, Monkey Grip, came out in 1977, won the 1978 National Book Council Award, and was adapted for film in 1981. Since then she has published novels, short stories, essays, and feature journalism. Her screenplay The Last Days of Chez Nous was filmed in 1990.Garner has won many prizes, among them a Walkley Award for her 1993 article about the murder of two-year-old Daniel Valerio. In 1995 she published The First Stone, a controversial account of a Melbourne University sexual harassment case. Joe Cinque's Consolation, published in 2004, was a non-fiction study of two murder trials in Canberra. In 2006 Helen Garner received the inaugural Melbourne Prize for Literature. Her novel, The Spare Room, published in 2008, won the Victorian Premier's Literary Award for Fiction, the Queensland Premier's Award for Fiction and the Barbara Jefferis Award, and has been translated into many languages. This House of Grief, was named Best True Crime book in the 2015 Ned Kelly Awards, and is a 2015 Foreword Reviews IndieFab finalist. In 2016 Helen Garner was awarded the prestigious Windham-Campbell Prize, for her non-fiction work. Helen Garner lives in Melbourne.