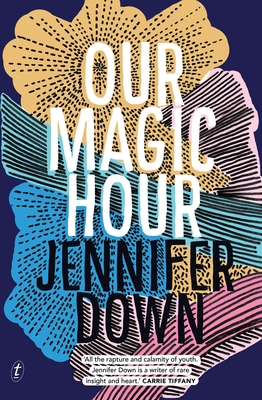 Our Magic Hour
Paperback

* Individual store prices may vary.
Description
'All the rapture and calamity of youth. Jennifer Down is a writer of rare insight and heart.'--Carrie Tiffany, author of Everyman's Rules for Scientific Living
'Impressive and emotionally sophisticated.'--Australian Book Review
'Astute, perceptive and always convincing.'--The Australian
'Beautifully written, it looks at grief and loss in a raw and honest way.'--The Big Book Club
'Down has perfectly captured the vulnerability of youth...An incredibly intimate and tender novel about friendship, family and the transformative power of grief...Easily one of the best Australian debuts I've read in a long time.'--Lip Mag
Audrey, Katy and Adam have been friends since high school--a decade of sneaky cigarettes, drunken misadventures on the city's backstreets, heart-to-hearts, in-jokes.
But now Katy has gone. And without her, Audrey is thrown off balance: everything she thought she knew, everything she believed was true, is bent out of shape.
Audrey's family--her neurotic mother, her wayward teenage brother, her uptight suburban sister--are likely to fall apart. Her boyfriend, Nick, tries to hold their relationship together. And Audrey, caught in the middle, needs to find a reason to keep going when everything around her suddenly seems wrong.
Evocative and exquisitely written, Our Magic Hour is a story of love, loss and discovery. Jennifer Down's debut captures that moment when being young and invincible gives way to being open and vulnerable, when one terrible act changes a life forever.
Jennifer Down is a writer and editor. She lives in Melbourne, Australia.
Text Publishing Company, 9781925240832, 304pp.
Publication Date: July 11, 2017
About the Author
Jennifer Down: Winner of multiple short story-writing awards, Jennifer Down has undertaken writing residencies in Melbourne, Penang and Spain, and run creative writing workshops with Victorian school students. The author lives in Melbourne. Our Magic Hour is her debut novel. Her short stories will be published by Text in 2017.