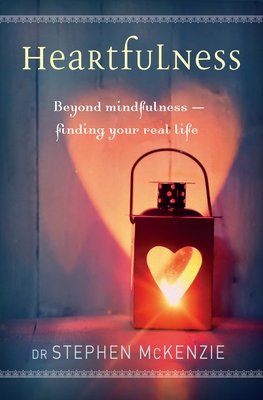 Heartfulness (Paperback)
Beyond Mindfulness, Finding Your Real Life
Exisle Publishing, 9781925335002, 192pp.
Publication Date: September 6, 2016
* Individual store prices may vary.
Description
The mindfulness trend has become a global phenomenon in a few short years. As more people add the practice of mindfulness to their daily routine and personal toolkit, though, many have lost sight of the practice's roots. 

With Heartfulness, Dr Stephen McKenzie, a leading mindfulness author and teacher, brings us back to the basics by connecting the heart with mindfulness to become "heartfulness". The paths to a fulfilling life are shown and demonstrated in an approachable, encouraging way.

To be "heartful" is to be connected with ourselves and with other people, therefore being truly alive, happy, without stress and at peace. You'll achieve this by following along with chapters on:

-Adversity
-Humor
-Knowledge
-Kindness
-Love
-Hope
-Contentment
-Courage
-Creativity
Heartfulness is filled to the brim with anecdotes, subjects to contemplate, and lots to read and enjoy. This is a gentle and warm book that seeks to bring the reader home to a happy state and proves that mindfulness and like minded practices are neither buzzwords or fads.
About the Author
Dr Stephen McKenzie is a researcher, lecture and writer with years of clinical and teaching experience in many areas of psychology including depression, dementia, substance abuse and mindfulness. He has written several books including Exisle's Mindfulness at Work and with Craig Hassed, Mindfulness for Life. Dr McKenzie lectures in psychology at Melbourne's Monash University, and is the Co-Course Convenor and developer of the large new fully online Graduate Diploma of Psychology Advanced (GDPA), Australia's largest accredited Fourth Year Psychology course. Stephen's books include Vital Statistics, Elsevier, 2013; Heartfulness: Beyond mindfulness, finding your real life, Exisle, 2016. 
Praise For Heartfulness: Beyond Mindfulness, Finding Your Real Life…
"Although within the genre of self-help books, the book nonetheless asks provocative questions which can be a springboard to deeper soul-searching."
 
- Catholic Herald
"This book pushes through the boundaries imposed by a misinterpreted idea of mindfulness"
- Ladies in Racing
"We don't need to wait for love, or permission to show kindness. We can just do it. With no expectations."
 
- Daily Telegraph