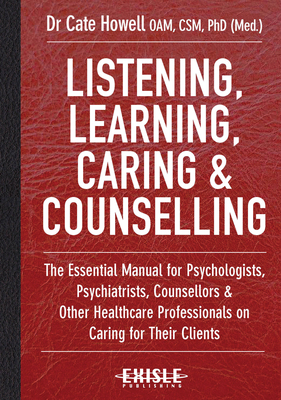 Listening, Learning, Caring & Counselling (Hardcover)
The Essential Manual for Psychologists, Psychiatrists, Counsellors and Other Healthcare Professionals on Caring for Their Clients
Exisle Publishing, 9781925335040, 304pp.
Publication Date: July 12, 2016
* Individual store prices may vary.
Description
At the centre of any caring role is listening attentively to the concerns, stories and needs of others. But to develop the skills of listening, learning, caring and counselling, you need support and training. Listening, Learning, Caring and Counselling (LLCC)is the comprehensive guide, full of ideas and techniques, to fill that role. It is not a book about fundamental counselling skills.
Instead, Author Dr. Cate Howell focuses on how professionals can assist clients as they work through the issues they commonly present with - such as low mood, relationship issues, loss and grief. A number of different therapies and their related techniques are described and synthesized into the LLCC approach, while case-studies, skills and tips for everyday practice make it a practical and user-friendly resource. LLCC is essential reading for counsellors, support workers, case workers, medical practitioners, health professionals, emergency workers and those in the fields of human resources and life coaching.
About the Author
Dr Cate Howell is a GP, therapist, educator and author. She had a Year 2000 Churchill Fellowship and completed a PhD on depression. In 2012 Cate was awarded the Order of Australia Medal for services to mental health. Cate currently works as a General Practitioner with Defence, and also has a private practice focusing on mental health and various teaching activities. Cate is a co-author of Release Your Worries (with Dr Michele Murphy), and the upcoming he Changing Man (Exisle), and the author of Listening, Learning, Caring and Counselling (Exisle).
Praise For Listening, Learning, Caring & Counselling: The Essential Manual for Psychologists, Psychiatrists, Counsellors and Other Healthcare Professionals on Caring for Their Clients…
"For those professionals who are looking for a resource that will help prepare them to effectively communicate with those experiencing emotionally related problems, this new text will prove to be of great benefit."
- Nursing Times
"A highly accessible reference work full of ideas and techniques"
- Counselling Today
"Dr Howell's book is a wonderful resource for a clinician like me … The final self-care chapter is very helpful; whether you have provided counselling services for many years or are just beginning ... This book enables a busy clinician like me to dip in and out and find useful hints and strategies and the inclusion of relevant apps and websites is most helpful."
- Dr Meredith Frearson, General Practitioner, Adelaide Healthcare Adelaide