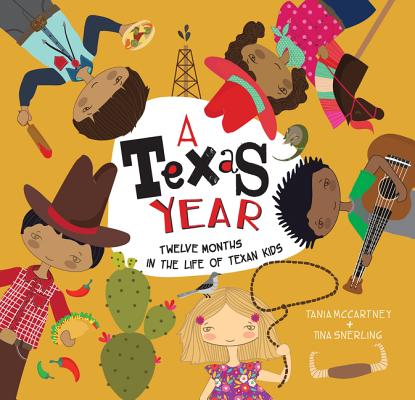 A Texas Year (Hardcover)
Twelve Months in the Life of Texan Kids (A Kids' Year)
EK Books, 9781925335064, 32pp.
Publication Date: September 1, 2016
* Individual store prices may vary.
Description
Meet Luis, Alexis, Christopher, Ethan and Mia - Texan kids representing a multicultural blend that typifies our amazing state. They'll take you through a year in the life of Texan kids, from celebrations, traditions and events, to our everyday way of life and the little things that make childhood so memorable. A Texas Year is a picture book bursting with state pride. It's a snapshot of who we are as Texans, blending our modern-day culture and lifestyle with past traditions and multicultural heritage.
Its pages feature meandering text, dates and gorgeous illustrations showcasing five Texan children at play, at school, at home, and enjoying the sights and sites of our great state. From the plains and canyons of the Panhandle to the beaches and wetlands of the Gulf Coast, vibrant cities and friendly country towns, this is our Texan childhood.
About the Author
Tania McCartney is an award-winning author, illustrator, and book and magazine editor. The founder of Kids' Book Review and the 52-Week Illustration Challenge, she is a long-time juvenile literacy ambassador, and an established player in the Australian children's book industry. Her most recent book, See Hear, is a sequel to Smile Cry, a CBCA Notable Book for 2017 and winner of the SCBWI Crystal Kite Award for Book of the Year. Australia Illustrated, now in its second edition, was her first self-illustrated book. Tania lives in Canberra with her family, a forest of artwork and a mountain of books.  
Tina Snerling is an illustrator, graphic designer, creator, mother and Art Director at Spencil, a children's stationary company since 2013. Tania has illustrated the award winning Kid's Year series and is privileged to spend the most part of her days daydreaming out her sun drenched window, creating worlds that allow her to travel anywhere without leaving her studio.