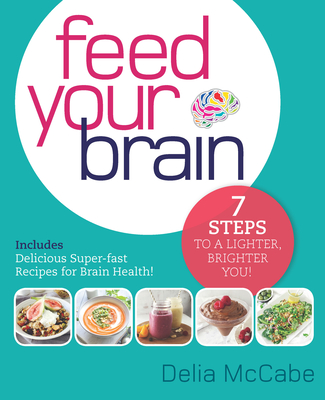 Feed Your Brain (Paperback)
7 Steps to a Lighter, Brighter You!
Exisle Publishing, 9781925335118, 296pp.
Publication Date: September 6, 2016
* Individual store prices may vary.
Description
With a worldwide ageing population, and cases of dementia as well as severe depression and anxiety alarmingly on the rise, looking after your brain has never been more important. Feed Your Brain is the essential guide to eating foods rich in the vitamins and minerals your brain needs to stay happy, productive, and healthy.
Delia McCabe has done over two decades of research into the science behind how the brain works, and how vitamins, minerals, fats, oils, carbohydrates and proteins affect brain function. The result is her unique 7-step plan that will help you to modify your eating habits quickly and easily as you learn to take care of your brain and body. The next step: apply this knowledge in everyday life. Stuffed full of delicious, quick and easy recipes, this guide gives a tasty foundation to your new, exciting diet. The recipes are gorgeously presented, with mouth-watering pictures to provide inspiration and motivation!
It has been proven beyond a doubt that it is possible to improve focus and memory, reduce stress and anxiety, and think more clearly simply by enjoying a diet rich in the right nutrients, and Feed Your Brain is the perfect guide to starting this journey. The side-effects of glowing skin, great energy levels, and maintaining a healthy weight aren't bad either! Start feeding your brain now and see how quickly you discover a lighter, brighter you!
About the Author
Delia McCabe has a Masters in Psychology and is completing her doctorate on the effects of certain nutrients on female stress. For the past 20 years she has combined her knowledge of the human brain with research into how food influences brain function. She has seen time and again that the right diet can have a dramatic influence on our memory, moods, ability to focus and stress levels. Delia now speaks and works internationally on the topic of nutrition and the brain. She presents seminars and workshops teaching people how to achieve optimum brain health via nutrition. Her books include Feed Your Brain and Feed Your Brain – The Cookbook (both with Exisle Publishing).
Praise For Feed Your Brain: 7 Steps to a Lighter, Brighter You!…
"Delia takes you through her seven-step program, simply and clearly, explaining the science behind how the brain works, and showing how vitamins, minerals, fats, oils, carbohydrates and proteins affect brain function."
- PS News
"If you have noticed your memory slipping, have trouble focusing, concentrating or learning, or have mood swings and don't want to go on medication, have poor sleep, or are feeling stressed and anxious all the time, this is the book for you." 
- The Senior