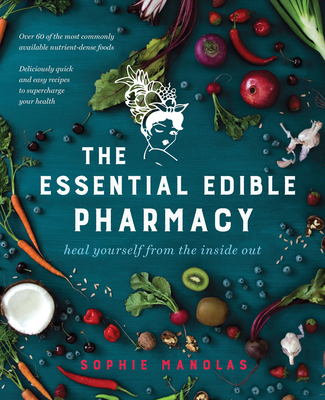 The Essential Edible Pharmacy (Paperback)
heal yourself from the inside out
Exisle Publishing, 9781925335163, 240pp.
Publication Date: September 1, 2016
* Individual store prices may vary.
Description
If you eat food, you need this book! Sophie Manolas is a straight-talking, down-to-earth clinical nutritionist who is all about showing people how they can eat their way to being the greatest and healthiest version of themselves.
In The Essential Edible Pharmacy she takes over 60 of the most commonly available nutrient-dense foods (covering everything from leafy greens to root vegetables, herbs and spices to fruits), and explains exactly why each of these foods are so good for you, before giving a simple recipe that will entice even the fussiest tastebuds.
A straightforward, effective approach to diet and nutrition with gorgeous photographs of fresh produce (most of it straight from Sophie's garden) and delicious recipes, this is a practical, beautiful reference book that will entertain and educate.
About the Author
Sophie Manolas is a clinical nutritionist, whose country childhood taught her the importance of the home vegetable patch and fresh produce from an early age. She was inspired to study Nutritional Medicine after a long struggle with Polycystic Ovarian Syndrome - a change in diet proved to be the only effective treatment. After qualifying as a clinical nutritionist, Sophie established her own practice, specialising in women's health and hormonal issues, and has achieved great success with her down-to-earth approach and comprehensive understanding of how we can use food as our medicine. Her own property is established on permaculture principles, with Sophie and her partner growing and producing the majority of their food themselves.
Praise For The Essential Edible Pharmacy: heal yourself from the inside out…
"...shows you how to cook with nutritious, but often overlooked foods."
- Good Health Magazine
"Fully illustrated with gorgeous photographs...practical reference book."
- Ladies in Racing
"Essential Edible Pharmacy takes a broad and comprehensive look at commonly available foods and examines how they can contribute to maintaining great health and prevent the onset of disease. This is aimed at simplifying the process of making the best dietary choices, and to show you that all whole foods, in their own way, are 'superfoods'."
- PS News