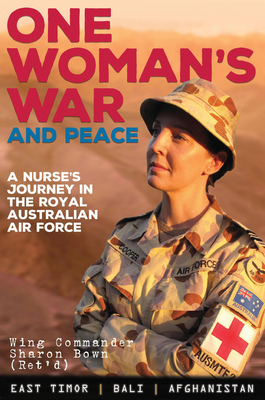 One Woman's War and Peace (Paperback)
A Nurse's Journey in the Royal Australian Air Force
Exisle Publishing, 9781925335316, 248pp.
Publication Date: February 1, 2017
* Individual store prices may vary.
Description
In 1999, idealistic 23-year-old Registered Nurse Sharon Bown left her comfortable family life in Tasmania and joined the Royal Australian Air Force with the aim of providing humanitarian aid to the world. Through her 16-year military career she deployed on three operations, barely survived a helicopter crash, struggled to return to military service, mixed in political circles in Canberra and around the world as Aide de Camp to the Minister for Defence, and commanded a combat surgical team during some of the most intense fighting in Afghanistan. During this time, she lost her mother to breast cancer and almost lost her policeman father to a homicidal psychopath on his way to shoot dead his girlfriend but who decided to kill a cop instead. From teaching East Timorese orphans to learn English to tending to wounded Coalition soldiers choppered into her surgical team from deadly battles on the Afghan dust, Sharon's story is that of a sheltered civilian RN becoming a military Nursing Officer and a commander. Her military service was unique, varied and far-reaching but came at the cost of her physical and mental health. A broken back, shattered jaw and Post-Traumatic Stress Disorder are the price she has paid for a remarkable and inspirational career in the Royal Australian Air Force.
About the Author
Wing Commander Sharon Bown (Ret'd) completed her Bachelor of Nursing at the University of Tasmania in 1995. With post-graduate qualifications in Peri-operative nursing and Advanced Nursing in Family, Child and Youth Health, she worked as a Registered Nurse at Calvary Hospital, Hobart from 1996-1999, including two years in the operating theatre, before joining the Royal Australian Air Force as a Nursing Officer in 1999. During her Air Force service, she served overseas in East Timor and Afghanistan and was appointed commander of the RAAF Base Townsville health centre from 2008-2011 and as the commander of surgical/critical care team deployed to Afghanistan in 2008. Aside from her military nursing service, she also served as the Aide-de-Camp to the Minister for Defence in 2006 - a unique privilege for a Nursing Officer. During her service she suffered a number of life-altering events such as surviving a helicopter crash with a shattered jaw and broken back and having her policeman father shot in the line of duty, soon after losing her mother to breast cancer. Her service life has exposed her to the best and the worst of humanity and her life's experiences have resulted in a diagnosis of Post-Traumatic Stress Disorder. Sharon retired from the Air Force in 2015 and is pursuing further study towards a Bachelor of Psychology. Sharon is a passionate advocate for Australia's military nurses and for military and veterans' health where she hopes her experiences and Psychology qualifications will assist others. She is highly sought after as a public speaker and is often invited to speak about the unique experiences of her service career. She lives in Townsville with her husband and their two sons.
Praise For One Woman's War and Peace: A Nurse's Journey in the Royal Australian Air Force…
"Bown is a remarkable woman...(she) is open and honest about her feelings and how she has now found some peace. Telling her story of adversity and survival clearly helps her in the advocacy in which she is now engaged. Her story will also provide comfort and help for those who have suffered injury, mental and physical, in shocking accidents while serving their country or otherwise."
- Honest Histories
"Sharon's story is one which encourages and inspires readers to lead within their own lives."
- The Hive (Australian College of Nursing)
"(a) rare insight into Australian military service from a woman's perspective"
- Townsville Eye