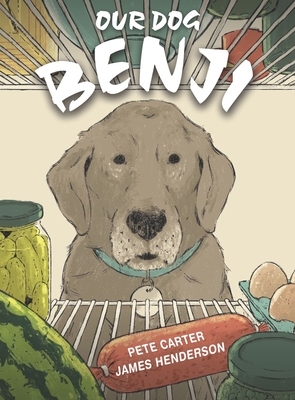 Our Dog Benji (Hardcover)
EK Books, 9781925335330, 32pp.
Publication Date: March 7, 2017
* Individual store prices may vary.
Description
We all know that dogs will eat anything. We also know that kids' tastes generally aren't so wide-ranging. While ice cream and pizza might be devoured in the blink of an eye, the dreaded 'green stuff' (vegetables to the adults) is often pushed to one side of the plate. Author Pete Carter understands this phenomenon well, as he shows in the adventures of Benji. In delightful duotone illustrations and engaging text, we see how Benji's willingness to eat anything - from daffodils to brussels sprouts, ice cream to avocados, sandwiches to bones - gradually inspires his child owner to be a little more adventurous at mealtimes. Although dogs and kids do have standards and it seems there's one thing neither of them will touch! The perfect book to encourage fussy eaters to try a few more vegetables! Illustrator James Henderson is Pete Carter's nephew, making this picture book a family affair.
About the Author
Pete Carter is a writer and photographer, and the author of two previous books of poetry. He lives with his wife and two dogs in Wellington, New Zealand. One of his dogs is the muse for 'Our Dog Benji'; the other hopes to star in Pete's next book.
James Henderson was never far from a pencil or pen as a child, and at school was infamous for his caricatures of teachers. After studying illustration and design at Massey University, James now works as a freelance illustrator for corporate clients. For the last two years James has operated as a freelance illustrator for corporates including one of New Zealand's major banks. More recently, one of James' illustrations can now be seen on the screens of all Kiwi Bank ATM machines
Praise For Our Dog Benji…
"Adults concerned about fussy eaters especially, will smile at Carter's tale and hope that perhaps like the small boy protagonist, their charges will try some new foods, perhaps even 'green stuff.'"
- Red Reading Hub
"This is a lovely book to share with any child who might need a bit of encouragement when it comes to eating a wider variety of food … I love the way it shows the sheer fun of being a bit adventurous with your food."
- Myshelf
"Our Dog Benji is a unique way to approach the subject of picky eating. I think you can also read this book and talk about gratitude. Benji is appreciative of what he is given. It's a sweet story that could lead to a larger discussion about what we can learn from our pets."
- NC Teacher Stuff
"We know that dogs eat anything - or do they? This smaller format picture book will suit small hands as the affectionate illustrations take readers through a warm relationship."
- Pinerolo Newsletter
"This is the perfect book to share with fussy eaters and hopefully it will encourage them to be a little more adventurous."
- Parents in Touch
"The kids really enjoyed this title, they enjoyed telling me all the different things there dog would eat and laughed throughout the book. All agreed that it's important to try new foods, but didn't think they would eat all the things that their dogs eat. Such as dog food, Yuck! There was a unanimous choir that celery is not a very liked food."
- Jnr Bookworms
"Part dog story, part food diary, the book Our Dog Benji outlines all of Benji's culinary adventures … hilarious."
- The Mummy Project
"If you have a fussy child who needs a bit of gentle encouragement when it comes to healthy eating here's a gorgeous read by EK Books to win him or her over."
- Hip Little One
"Herein lies the sneaky genius of this simple tale. While children chortle at Benji's love of crunchy bugs, their subconscious might begin to open up to the fun of trying new flavours.... Henderson's adorable images of this four-legged optimist are the personification of dogness."
- Kids' Book Review
"Given the new research that shows the food that toddlers eat has a profound effect on their lives long-term particularly their likelihood of being overweight or obese, any books that start conversations with them about nutrition and what they and their pets need to be healthy and active has to be a winner. Thumbs up for this one."
- The Bottom Shelf
"A simple yet effective story for young children which explores friendship, adventure and fussy eating; all of which are relevant and significant in the lives of children."
- Reading Time
"A delightful hardcover book, Our Dog Benji is an endearing tale that will appeal to children and adults alike - and to lovers of food, dogs and whimsy."
- Buzz Words Books
or
Not Currently Available for Direct Purchase