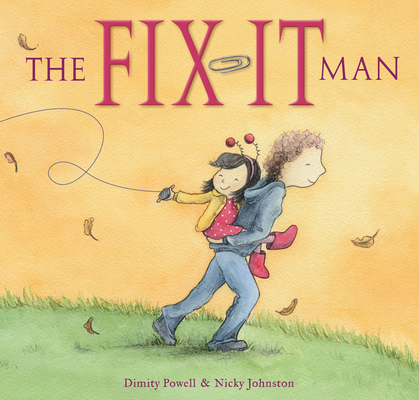 The Fix-It Man (Hardcover)
EK Books, 9781925335347, 32pp.
Publication Date: March 1, 2017
* Individual store prices may vary.
Description
It's handy having a dad who can fix just about anything. A young girl believes her father is the king of fixing things. But following the death of her mother, she discovers that broken hearts are not as easy to repair as damaged toys and cracked teapots. Together, she and her father find a way to glue back the pieces of her lives. The Fix-It Man is a poignant picture book that explores how a child can cope with the loss of a parent (in this case, the young girl's mother). Repairing damaged emotions is not as straightforward as gluing a broken kite back together or sewing up a torn toy. And grief affects all members of a family, with each responding in their own way to the loss. By sticking with her father, the young girl is able to strengthen her resilience and ability to cope with one of life's harshest experiences. The author was encouraged to seek publication for this story after receiving the endorsement of several grief counsellors who work with children and who recognised the need for a book such as this.
About the Author
Dimity Powell writes for children because she would secretly love to be one again. To support this fantasy she produces sometimes silly, sometimes sad, always sparkly stories for school magazines, anthologies, online apps as creative digital content, and as junior novels and picture books. Many of her stories have been shortlisted or won awards including her digital narrative, The Chapel of Unlove for the Story City App, shortlisted for the Western Australian Premier's Book Awards 2016. Two of her picture books feature on the Kindergo App and appear as part of Virgin Australia's Inflight Children's Entertainment Program. PS Who Stole Santa's Mail? filled the Christmas stockings of children everywhere for the first time in 2012. At the End of Holyrood Lane is her second picture book with EK Books. The Fix-It Man, also illustrated by Nicky Johnston, debuted in 2017. Dimity is also Managing Editor of highly respected children's literature website Kids' Book Review, and a Books in Homes role model. Her past adventures include skiing the French Alps, Kombiing around a quarter of Australia, spotting manatees in Florida, and getting lost in the Bermuda Triangle. She's tried a few grown-up jobs, but thinks it's more fun writing for children now because she believes that great stories — like ice-cream — are life essentials. One day, she would love to travel to Lapland and meet Santa for real.
Nicky Johnston is a primary educator, speaker and children's book author and illustrator. Passionate about raising awareness of the importance of children's emotional well-being, Nicky has written books to help children deal with anxiety and develop resilience. She is an experienced public speaker and presents at parent forums, seminars and conferences. Her illustration style is described as whimsical, playful, narrative, emotive and dreamy. She works mainly in watercolor, ink and pencil. She also produces work digitally using a variety of illustration software. Nicky's first children's book Go Away, Mr Worrythoughts! was adapted into a theatrical production. For five years the show has been performed at primary schools throughout Victoria, educating children dealing with anxiety and helping to develop a healthy resilience. For four years, Nicky was the Creative Director of 52-week Illustration Challenge Facebook group. This online Illustration Challenge inspires a community of artists and illustrators to create artwork using weekly theme prompts while providing a safe and encouraging environment for personal artistic development.
Praise For The Fix-It Man…
"A fantastic book for those wanting to help teach their child about loss."
- In The Good Books
"Teachers agreed this would be a wonderful resource for a child dealing with loss with its gentle approach."
- Jnr Bookworms
"A beautiful way to talk about loss and grief" 
- Disney Princesses Magazine
"The Fix-It Man is a story that reflects the challenges of losing a loved one, acknowledging that there is a pain which cannot be fixed, but also acknowledging that with love and support, a child can move forward after a major loss.  Many people avoid the topic of death, but in this book it is addressed respectfully and sensitively, and I believe that this will be a wonderful resource for those helping children deal with grief and loss."
- Sally-Anne McCormack, Melbourne-based Child & Adolescent Psychologist and author
"Poignant, perfectly pitched and picture perfect"
- Boomerang Books
"In The Fix-It Man, author Dimity Powell and illustrator Nicky Johnston have created a truly beautiful book to help kids with their emotional needs around loss." 
- The Mummy Project
"Beautifully written and illustrated, The Fix-It Man is a valuable tool for educators, parents, schools and all parents … We are excited to add this deeply touching story to our resources to help grieving children heal."
- Deirdre Hanna, Founder and Board Director - Hopewell Hospice Services Inc. and Paradise Kids
"The Fix-It Man is a thoughtful, caring, picture book story exploring how grief and loss affect a young child … This is an important book. It's hard to discuss grief and loss with a young child. The Fix-It Man provides a way to do that."
- Sunday Telegraph
"Compelling Children's Book"
- Gold Coast Bulletin
"This is a poignant story of loss and one that will resonate with many children who have lost a parent or other loved one.  With its gentle text and soft palette, even though it is sad it is not gloomy because the love between this family oozes from the page and from that, the hope is tangible."
- The Bottom Shelf
"Written with great compassion by Dimity Powell and beautifully illustrated by Nicky Johnston 'The Fix-It Man' is a perfect read for families going through a difficult time of grieving." 
- Hip Little One
"This story will pull at the heart strings and prompt conversations otherwise hidden beneath broken hearts."
- Creative Kids Tales
or
Not Currently Available for Direct Purchase