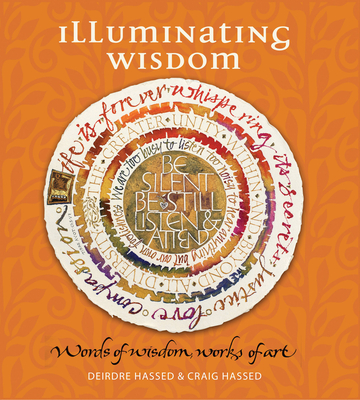 Illuminating Wisdom (Hardcover)
Words of Wisdom, Works of Art
Exisle Publishing, 9781925335354, 160pp.
Publication Date: March 1, 2017
* Individual store prices may vary.
Description
Illuminating Wisdom brings art and wisdom together in a beautiful celebration of some of the world's most inspiring philosophical, spiritual and literary quotes. Approximately 80 quotes have been drawn from some of the great wisdom and literary traditions of both East and West, as well as from inspiring people throughout history noted for their practical wisdom. These quotes have been set to exquisite calligraphy by Deirdre Hassed, a leading professional calligrapher, in a range of styles - from the traditional to the contemporary, and making use of many and varied techniques such as gilding, collage, work on glass, letterpress and linoprinting. Accompanying each artwork is text by Craig Hassed, an international expert in mindfulness, that provides background on the quote's author, explores the wisdom tradition to which it belongs, and offers deep insight into the meaning of the quote. The result is a book that is both a work of art and a collection of wisdom that will educate and inspire.
About the Author
Deirdre Hassed trained in calligraphy and bookbinding and now operates a professional calligraphy studio. Drawing on both traditional and contemporary techniques, Deirdre's life-long interest in Eastern and Western philosophy provides a rich reservoir of meaning, which she brings to life both in her calligraphic works and her home environment.
Dr Craig Hassed is an internationally recognized expert in mindfulness who has presented widely at national and international seminars and conferences and has published extensively in the areas of mind-body medicine and mindfulness. He has been instrumental in promoting mindfulness as a simple, natural and accessible technique for enhancing wellness, preventing and managing illness, and improving performance within health, educational and corporate settings. Craig is co-author of Exisles very successful Mindfulness for Life and Mindful Learning titles.
Praise For Illuminating Wisdom: Words of Wisdom, Works of Art…
"A literary and philosophical objet d'art of the greatest integrity and beauty."
- The West Australian
"when combined with calligraphy - the art of beautiful writing - words of wisdom can sometimes subvert our intellectual defences and exert a profound effect on us."
- Good Reading
"contains a collection of wise sayings from a variety of traditions beautifully illustrated. It's a great example of an entirely harmonious work of art, and one can only be grateful that works of this nature are produced and have their influence."
- Stoicism
"Rendered in beautiful, multi-styled calligraphy, the wise words are artful, the art insightful, inspirational, and appealing to all."
- Foreword
or
Not Currently Available for Direct Purchase