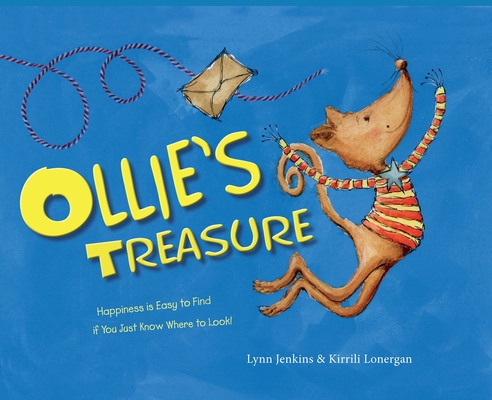 Ollie's Treasure (Hardcover)
Happiness is Easy to Find if You Just Know Where to Look!
EK Books, 9781925335422, 32pp.
Publication Date: June 1, 2017
Other Editions of This Title:
Paperback (10/15/2019)
* Individual store prices may vary.
Description
Ollie's Treasure is tale of mindfulness for young, developing minds. It's a story about how simply noticing and taking in what is on offer to our senses can lead to the Holy Grail of treasure - happiness.

Ollie's Treasure takes children on a treasure hunt. Ollie's grandma sends him a treasure map that promises to lead him to 'something that will make him happy always'. Of course, Ollie thinks this 'something' will be a toy of some sort, but he gets both a rude shock and a big surprise when his treasure turns out to be him! By following his grandmother's treasure map, he is taken on a journey of his senses, encouraged to notice what he can see, hear, touch, smell and taste. It comes as quite a surprise to him to realise that noticing such things makes him feel happy, and that the key to happiness can be found in his own mind not in material possessions.
About the Author
Lynn Jenkins is a clinical psychologist, author and mother of three. Lynn is passionate about early intervention in the social and emotional development of children. She has written three picture books on the topics of anxiety and worry (Lessons of a LAC, Brave and Perfect Petunias), a picture book on mindfulness for children called Ollie's Treasure, as well as two non-fiction titles for adults, Best Start and School Start.
Kirrili Lonergan is a children's book illustrator, art therapist and mother of four. She has illustrated several picture books (Lessons of a LAC, Brave, Perfect Petunias, Ollie's Treasure and Dandelions) as well as creating designs for clothes, prints and pottery. She is passionate about illustrating picture books that have a 'healing' message and has a great understanding of the need for such books as a result of her previous work as a paediatric nurse.
Praise For Ollie's Treasure: Happiness is Easy to Find if You Just Know Where to Look!…
"as part of a programme for young children's mental health and well-being, it offers a good starting point for reflection and discussion."
- Red Reading Hub
A story that points to the value of mindfulness for our children in a world of hustle and bustle and gadgets
- Literacy, Families and Learning
Ollie's Treasure by Lynn Jenkins & Kirrili Lonergan (EK Books). Happiness is easy to find and we are all treasures in our own way. A touching and heartwarming story that ends in a big hug. Lovely for grandparents to share with their grandchildren - all treasures.
- Pinerolo
"fun-filled picture book about mindfulness'
- The Weekly Times
"A gorgeous testimony to the art and importance of mindfulness, Ollie's Treasure reinforces the value of appreciating the simple enduring things in life, like a grandmother's love, over mere materialistic possessions.  Dreamy illustrations and gentle prose make this a story to share."
 
- Boomerang Books
"This picture book sends a very important message to children in an uncomplicated way about encouraging mindfulness and living 'in the now.' It is a lovely story that I am sure young readers would enjoy!"
- In The Good Books
"Jenkins reminds us how the little things in life become commonplace, losing their uniqueness, but should be experienced as treasures themselves. Through Lonergan's animated watercolor and ink illustrations, readers will enjoy the "cheeky rat" Ollie as he hops, jumps, and spins his way across the pages filled with beehive-shaped houses and colorful gardens using each of his senses ... A wonderful exercise in finding that happiness isn't that far away, and is perfect to use in the classroom."
- Lindaâ??s Little Lit Reviews
"An interesting story to teach young children how to find happiness in things other than toys.  A good book with a simple but important story for all young children. Do get it!"
- SchoolDays
"A tale of mindfulness for young developing minds"
- Kids on The Coast