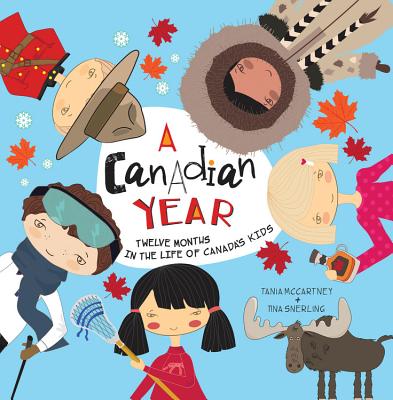 A Canadian Year (Hardcover)
Twelve months in the life of Canada's kids (A Kids' Year)
EK Books, 9781925335439, 32pp.
Publication Date: June 1, 2017
* Individual store prices may vary.
Description
Meet Liam, Ava, Oki, Chloe and Noah - Canadian kids representing a multicultural blend of culture and race that typifies our amazing country. They'll take you through a year in the life of Canada's kids, from celebrations, traditions and events, to our everyday way of life and the little things that make childhood so memorable. A Canadian Year is a picture book bursting with national pride. It's a snapshot of who we are as Canadians, blending our modern-day culture and lifestyle with past traditions and native heritage. Its pages feature meandering text, dates and gorgeous illustrations showcasing our five Canadian kids at play, at school, at home, and enjoying the sights and sites of our nation. From the frozen glaciers of our north to the sweeping prairies, rocky mountains and great lakes, from vibrant cities to tiny towns, this is our Canadian childhood.
About the Author
Tania McCartney is an author, editor, reviewer and features writer. She has been writing professionally for over 25 years and has almost a thousand articles and reviews in print and online. Passionate about literacy, Tania founded the highly regarded children's literature website Kids' Book Review and the 52-Week Illustration Challenge, and is an ambassador for the Australian National Year of Reading 2012. She has spent many years presenting and speaking on reading, books and writing.
Her previous book with Tina Snerling was the bestselling An Aussie Year. Tania is also the author of the very successful Beijing Tai Tai. Described as 'The Eat, Pray, Love for mothers', this is her account of the four years she spent living in China's capital. Tania has also lived in Paris and London, and currently lives in Canberra with her husband and two kids, and a mountain of books.
Tina Snerling is an illustrator, children's wear designer and graphic artist. Formerly a fashion and textiles designer, she now illustrates the award-winning Kids' Year series and other picture books, and is the Art Director for a children's stationery company. She lives in Brisbane with her husband, two kids and a wild imagination to draw the world with childhood innocence.
Praise For A Canadian Year: Twelve months in the life of Canada's kids (A Kids' Year)…
"a lively overview of the sights, sports, foods and places that make this country so unique."
- Postmedia News Canada
"Being so very different to Australia our kids love reading all about this foreign country, they can't imagine what -30°C feels like but they sure get very excited about the sound of ice hockey, sled races, skiing and riding the toboggan. Everyone is chatting about igloos and ice hotels, we discover the meaning of Inuit and why houses in North Canada are built on stilts … Once you've finished A Canadian Year you'll be a true Canada connoisseur."
- Hip Little One
"... help to generate an attitude of tolerance and inclusiveness. These books would be important resources in any school or classroom library. "
 
- Reading Time
This is the latest book in a wonderful series that helps children understand the different lives that children lead around the world
- Literacy, Families and Learning
"Highly recommended for primary libraries – you really must have the whole series. Where are we travelling to next I wonder? … What an absolutely marvelous way for us to spread the joy of inclusivity, promote cross-cultural understandings and foster peaceful relations with others."
- Just So Books
A Canadian Year and A Kiwi Year by Tania McCartney & Tina Snerling (EK Books). Two new books in this popular series which takes children through a year in the life of children in different countries. Lots of fascinating and informative facts and colourful, detailed illustrations. Great books to read before travelling or just to know how other children live.
- Pinerolo
"What I really like about this hard-covered book as well as A Kiwi Year is the layout. The sentences are short yet informative making it ideal for even children of young age to understand. The illustrations are bright and give readers a fantastic glimpse into all of the wonderful things there are to do and celebrate in Canada."
- In The Good Books
"These books are fabulous for schools. They are educational books kids will want to pick up and explore, and EK Books provides teaching notes on their website to give you inspiration for lessons and activities."
- Kids' Book Review