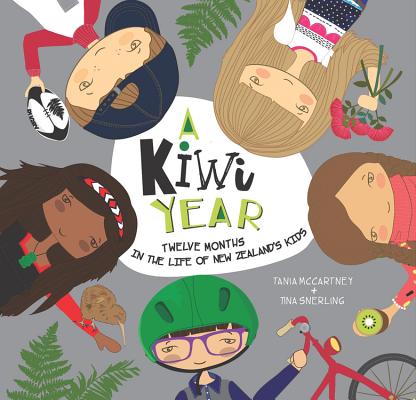 A Kiwi Year (Hardcover)
Twelve months in the life of New Zealand's kids (A Kids' Year)
EK Books, 9781925335446, 32pp.
Publication Date: June 1, 2017
Other Editions of This Title:
Paperback (11/5/2019)
* Individual store prices may vary.
Description
Meet Charlie, Ruby, Oliver, Mason and Kaia - Kiwi kids representing a multicultural blend of culture and race that typifies our amazing country. They'll take you through a year in the life of New Zealand's kids, from celebrations, traditions and events, to our everyday way of life and the little things that make childhood so memorable.

A Kiwi Year is a picture book bursting with national pride. It's a snapshot of who we are as New Zealanders, blending our modern-day culture and lifestyle with past traditions and native heritage. Its pages feature meandering text, dates and gorgeous illustrations showcasing our five Kiwi kids at play, at school, at home, and enjoying the sights and sites of our great nation.

From the Bay of Islands to our hot springs and soaring mountains, vibrant cities and quaint country towns, this is our New Zealand childhood.
About the Author
Tania McCartney is an award-winning author, illustrator, and book and magazine editor. The founder of Kids' Book Review and the 52-Week Illustration Challenge, she is a long-time juvenile literacy ambassador, and an established player in the Australian children's book industry. Her most recent book, See Hear, is a sequel to Smile Cry, a CBCA Notable Book for 2017 and winner of the SCBWI Crystal Kite Award for Book of the Year. Australia Illustrated, now in its second edition, was her first self-illustrated book. Tania lives in Canberra with her family, a forest of artwork and a mountain of books.  
Tina Snerling is an illustrator, graphic designer, creator, mother and Art Director at Spencil, a children's stationary company since 2013. Tania has illustrated the award winning Kid's Year series and is privileged to spend the most part of her days daydreaming out her sun drenched window, creating worlds that allow her to travel anywhere without leaving her studio.
Praise For A Kiwi Year: Twelve months in the life of New Zealand's kids (A Kids' Year)…
All the books in this splendid series offer so much more than any geography text for children ever could. The teacher in me wants to race off to a classroom to share this book as a basis for a whole unit of work on Canada
- Literacy, Families and Learning
It is a great way to explain culture and identity to young children. I enjoy the way that we are now comfortable in our own place and able to adapt such seasonal festivities as Christmas and Easter to our Southern climate and Kiwi ways.
- Booksellers, The Reader
"a unique and highly recommended addition to family, daycare center, preschool, elementary school, and community library picture book collections"
- Mid West Book Review
"... with entertaining facts and funky illustrations, these books are fun, engaging and informative."
- Kidsâ?? Book Review
"Tania and Tina have ferreted out those things that make this country and its people unique and bring them to life through the eyes of the children, celebrating them in such a special way that this book will be handed on to my grandchildren (whose dad is also a Kiwi) so they can understand where they come from."
- The Bottom Shelf
"Highly recommended for primary libraries – you really must have the whole series. Where are we travelling to next I wonder? … What an absolutely marvellous way for us to spread the joy of inclusivity, promote cross-cultural understandings and foster peaceful relations with others."
- Just So Books
A Canadian Year and A Kiwi Year by Tania McCartney & Tina Snerling (EK Books). Two new books in this popular series which takes children through a year in the life of children in different countries. Lots of fascinating and informative facts and colourful, detailed illustrations. Great books to read before travelling or just to know how other children live.
- Pinerolo
"A wonderful miscellany of multi-ethnic Kiwi-centric pastimes, traditions and festivities seen through the eye of a child. Warm and whimsical illustrations add to the fun in this visual calendar of each of the 12 months of a year in a Kiwi child's life."
- The Childrenâ??s Bookshop
"... help to generate an attitude of tolerance and inclusiveness. These books would be important resources in any school or classroom library. "
- Reading Time