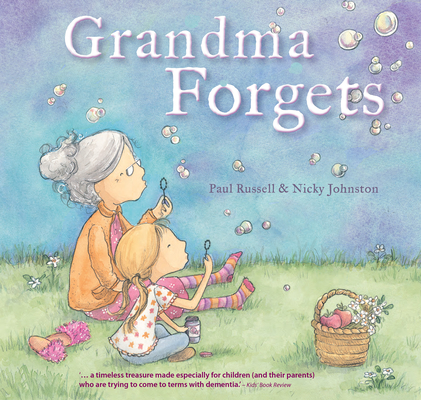 Grandma Forgets
Hardcover

* Individual store prices may vary.
Other Editions of This Title:
Paperback (4/24/2018)
Description
When your grandmother can't remember your name it should be sad, but maybe it is just an opportunity to tell her more often how much you love her.
Grandma Forgets is the heart-warming story of a family bound by love as they cope with their grandma's dementia. Over the years, the little girl has built up a treasure trove of memories of time spent with Grandma: sausages for Sunday lunch, driving in her sky-blue car to the beach, climbing her apple trees while she baked a delicious apple pie, and her comforting hugs during wild storms. But now, Grandma can't remember those memories. That's alright though, because she has her family to help her.
Depicted with gentle, whimsical illustrations, the little girl and her Grandma continue to share a loving relationship despite Grandma's dementia. They play the games they used to play, although Grandma sometimes forgets the rules, or makes up new games like hiding Dad's keys! Sometimes Dad is sad because he has to hold onto the memories for both him and Grandma now, but his daughter is only too happy to help him make new memories to share.
This is a warm, hopeful story about a family who sometimes needs to remind their grandmother a little more often than they used to about how much they care. She might not remember any of their names but she will always know how much she is loved, because they make sure to tell her every time they see her.
Praise For Grandma Forgets…
"This book would be a great way to look at ageing as a class. When days such as "100th Day of School" come around there is a focus on what students may look like at age 100 but not what they may be like. In a sensitive way this book really opens the way for discussions about ageing and diseases/conditions that can strike and how they change a person. I would definitely be using this one as part of 100th Day learning, as a parent with my own kids when the time comes, and recommending to other parents. A really beautiful book."
- Miss Jenny's Classroom
"Grandma Forgets is a lovely uplifting story about a family whose Grandmother is suffering from dementia. Written in the child's narrative, it offers an insight into the relationship the child had with the grandmother and how they are keeping the relationship positive and coping with the illness."
- Mums Delivery
"Grandma Forgets is a timeless treasure made especially for children (and their parents) who are trying to come to terms with dementia."
- Kid's Book Review
"I give this book five stars! The illustrations were so cute … This is such a nice book."
- Pirate Tree Blog
EK Books, 9781925335477, 24pp.
Publication Date: August 1, 2017
About the Author
Paul Russell is a primary teacher, artist, playwright and children's author. Having been in classrooms for over 30 years, it really isn't surprising that all of his heroes are teachers. Paul is particularly passionate about children's literacy and in building an appetite within children for the written word and sharing stories. Paul is the author of My Storee (2018, EK Books), The Incurable Imagination (2019, EK Books), The Incredibly Busy Mind of Bowen Bartholomew Crisp (2021, EK Books) and Courageous Lucy (2021, EK Books). He has won awards for his stories, with Grandma Forgets making the CBCA list of notable picture books in 2018.
Nicky Johnston is an educator, speaker and author/illustrator of children's books. She enjoys every aspect of creating books for kids, especially illustration. Nicky's illustration style is often described as whimsical, emotive, soft and expressive. She is passionate about promoting emotional resilience in children and raising awareness of mental health issues. Nicky's love of teaching sees her busy with school visits to share her journey of becoming an author and illustrator, and to show children the process of creating a book using excerpts of her work. She also presents at workshops and conferences. As well as teaching, Nicky works from home writing and illustrating in her art studio, and has contributed to 16 books including At the End of Holyrood Lane(EK Books, 2018), The Fix-It Man (EK Books 2017), Saying Goodbye to Barkley (EK Books, 2019), The Incredibly Busy Mind of Bowen Bartholomew Crisp (with Paul Russell, 2021, EK Books) and Upside-Down Friday (EK Books, 2021).
or
Not Currently Available for Direct Purchase