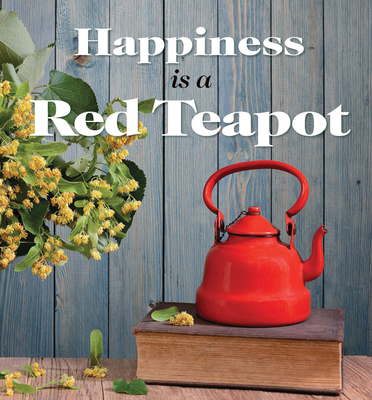 Happiness is a Red Teapot (Hardcover)
Exisle Publishing, 9781925335651, 160pp.
Publication Date: March 6, 2018
* Individual store prices may vary.
Description
For centuries, tea has held a valued place in both Eastern and Western cultures. From the ritual of a Japanese tea ceremony to the cosy informality of an English cuppa at the kitchen table, tea soothes, grounds and comforts us.

It's no surprise that so many of us switch the kettle on at the first sign of trouble — keep calm and drink tea! In fact, that's how this book came about. After a particularly stressful week, editor Anouska Jones was sitting at home with her husband complaining about everything that had gone wrong. As he put their teapot and two mugs down on the table, her husband commented, 'Cheer up! You can't be miserable when you've got a bright red teapot in front of you!'

The very next morning, Anouska started researching quotes about tea and before long she had a collection of memorable quotations from rock stars (Mick Jagger, Rod Stewart), Buddhist monks (Thich Nat Hahn), politicians (Abraham Lincoln, William Gladstone), actors (Audrey Hepburn, Billy Connolly), adventurers (Bear Grylls) and more. It seems tea's appeal is truly universal! 

A tribute to the world's favorite drink, this beautifully designed collection of quotes and photographs captures the sense of joy, comfort and homespun tradition given only by a good brew. In reading it, you may even experience the same pleasure as in drinking a perfectly brewed cup of your own particular favorite.

About the Author
Anouska Jones is a publisher, editor, book reviewer and writer. She is the Publisher for Exisle Publishing and EK Books, and is the Senior Editor of children's literature website Kids' Book Review. She lives on her rural property with her husband and daughter, three horses, eight chickens, three ducks, two dogs, one cat and one budgie.
Praise For Happiness is a Red Teapot…
"C.S. Lewis said, 'You can't get a cup of tea large enough or a book long enough to suit me.' If you are also a tea and book lover, then you will love this new book edited by Anouska Jones."
- Living Now
or
Not Currently Available for Direct Purchase