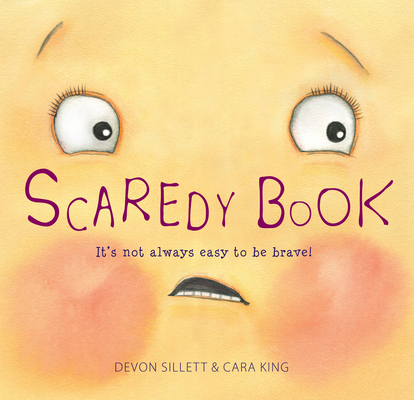 Scaredy Book (Hardcover)
EK Books, 9781925335682, 32pp.
Publication Date: May 8, 2018
Other Editions of This Title:
Paperback (7/7/2020)
* Individual store prices may vary.
Description
Book lives at the library and desperately wants to go outside, but is intimidated by all the things that might happen 'out there'. A page might get torn. Book's cover might get dirty. Book might never be returned to the library! Meanwhile, Emma loves visiting the library and delights in the many adventures to be had in the stories she finds there. When Emma meets Book, they find they are just what each other needs. Together, Book and Emma move out of their comfort zone to try new things, meet new people, and enjoy a few quiet adventures - climbing trees, laughing in the rain, and even cheering along at a soccer match. Along the way, they discover that 'out there' needn't be scary if you just take it one step at a time. Children and parents alike will enjoy this story about being brave, taking risks, and living to tell the tale!
About the Author
Devon Sillett is a former radio producer, turned writer and reviewer. She has qualifications in English literature, journalism, education, and an honors degree focusing on YA Speculative Fiction, for which she was awarded the prestigious APA award. Born in the US, Devon now calls Australia home. She has loved books as long as she can remember — so much so that she even married her husband Matthew in a library!

Currently, she teaches in the writing department at the University of Canberra, where she is also a Ph.D. student, researching Australian children's picture books. If she isn't writing or reading, you'll find her playing Lego or hide-and-seek with her two young sons, Jay and Aaron. Her previous titles with EK Books are The Leaky Story and Scaredy Book.
Cara King initially studied anthropology before moving across to multimedia and starting her own design business, Caratoons. As a designer and illustrator, she has produced images for T-shirt designs, books, cards and posters. Her first picture book, Mummy and Mumma Get Married, was published in 2015.
Praise For Scaredy Book…
"Beautifully written with wonderful illustrations, it shows that doing something different does not have to be scary. And,i f the idea is to give kids a love of books. it certainly works. My three year old could not put it down."
- The Daily Telegraph
"In Scaredy Book, whose cover and end pages are a story in themselves, attention is drawn to themes of shyness, safety of the familiar, fear of change and being brave."
- Kids Book Review
"Graeme Kemlo talks today to a children's book author, Devon Sillett, who is researching Australian children's picture books for her PhD and has written a book designed to inspire children to take risks and be brave."
- Travel Writers Radio