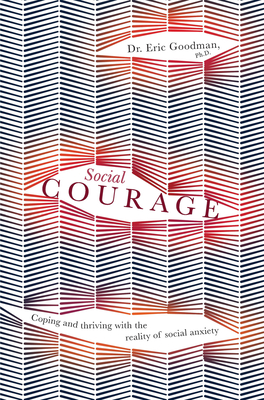 Social Courage (Paperback)
Coping and thriving with the reality of social anxiety
Exisle Publishing, 9781925335750, 232pp.
Publication Date: August 7, 2018
* Individual store prices may vary.
Description
Many people walk around with a secret: they experience social anxiety, be it of phobic proportions or just a fear of public speaking. And yet we are bombarded by messages from books, articles, and gurus that tell us social anxiety is a disease that needs to be cured and unless we eradicate it, we will never achieve our goals. What if this were all just noise; grumbling in your brain that you don't have to believe anymore?

Social Courage presents a step-by-step, structured program for minimizing suffering in the face of social anxiety while giving readers the tools to boldly work towards their social goals. It acknowledges that social anxiety is a normal human experience, with only as much power as you are willing to surrender to it. There is no shame in it, and it is felt by everyone to some degree; we just need to learn to break free from its constraints.

Combining strategies from Cognitive Behaviour Therapy, Acceptance and Commitment Therapy, and Compassion-Focused Therapy to form 'CBT 2.0', Social Courage helps readers cope and thrive with anxious thoughts and emotions using practical exercises and case studies. Minimise the power of your social anxiety with these straightforward, inspirational methods. Learn to thrive in social settings, from friendships, to romance, to career advancement. Break the pattern of anxiety and make the most of your life and your relationships!
About the Author
Dr. Eric Goodman, Ph.D., is a clinical psychologist, author, and speaker who specializes in helping people face their social fears and anxiety disorders. He earned his Ph.D. at Northeastern University in Boston and then taught there, with a focus on cognitive-behavioural therapy. He runs a private practice in San Luis Obispo, California, where his treatment approach focuses on Exposure with Response-Prevention and Mindfulness/Acceptance-Based Strategies. He also runs Social Courage groups and retreats and lectures occasionally at California Polytechnic State University in the psychology graduate program. When he is not busy 'scaring' his clients, he can be found scaring his three kids and patient wife.
 
Praise For Social Courage: Coping and thriving with the reality of social anxiety…
"Readers who struggle with social anxiety should find Goodman's clearly explained advice to be usable and appealing."
- Publishers Weekly