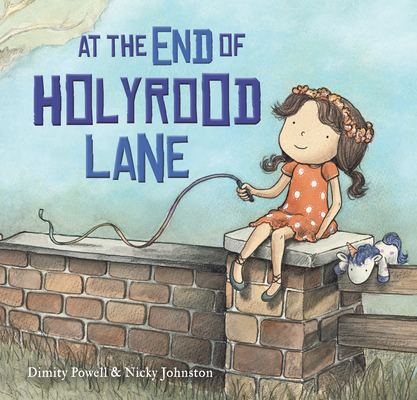 At the End of Holyrood Lane (Hardcover)
EK Books, 9781925335767, 32pp.
Publication Date: September 4, 2018
Other Editions of This Title:
Paperback (2/11/2020)
* Individual store prices may vary.
Description
Flick is just like any other youngster. She loves to chase butterflies and jump in autumn leaves. But life at the end of Holyrood Lane is often violent and unpredictable due to the constant storms that plague her home, causing her to cringe with dread and flee whenever they strike. Flick tries her best to quell her fears and endure the storms' persistent wrath until, one day, with nowhere left to hide Flick summons the courage to face her fears by asking for help to overcome them. At the End of Holyrood Lane provides a sensitive glimpse into one aspect of domestic violence and how it can affect young lives. Designed to be visually arresting, emotionally incisive, and ultimately uplifting, it is a tale of anxiety shown through the eyes of a small child with an intense dislike for thunderstorms -- a fear shared by many young children. This clever duality of meaning is able to evoke a gentle awareness for young readers who may be suffering their own domestic torment but who are too scared or unsure of how to seek help and shelter from their own storms, whatever their nature. This is the second book by the acclaimed author–illustrator team of Dimity Powell and Nicky Johnston, who specialise in handling difficult subjects with sensitivity and hope.
About the Author
Dimity Powell writes for children because she would secretly love to be one again. To support this fantasy she produces sometimes silly, sometimes sad, always sparkly stories for school magazines, anthologies, online apps as creative digital content, and as junior novels and picture books. Many of her stories have been shortlisted or won awards including her digital narrative, The Chapel of Unlove for the Story City App, shortlisted for the Western Australian Premier's Book Awards 2016. Two of her picture books feature on the Kindergo App and appear as part of Virgin Australia's Inflight Children's Entertainment Program. PS Who Stole Santa's Mail? filled the Christmas stockings of children everywhere for the first time in 2012. At the End of Holyrood Lane is her second picture book with EK Books. The Fix-It Man, also illustrated by Nicky Johnston, debuted in 2017. Dimity is also Managing Editor of highly respected children's literature website Kids' Book Review, and a Books in Homes role model. Her past adventures include skiing the French Alps, Kombiing around a quarter of Australia, spotting manatees in Florida, and getting lost in the Bermuda Triangle. She's tried a few grown-up jobs, but thinks it's more fun writing for children now because she believes that great stories — like ice-cream — are life essentials. One day, she would love to travel to Lapland and meet Santa for real.
Nicky Johnston is an educator, speaker, author/illustrator of children's books, and mum to four boys. She is the illustrator representative for the annual author/illustrator KIDLITVIC – Meet the Publishers Conference. Nicky also visits schools to share her journey of becoming an author and illustrator, and to show children the process of creating a book using excerpts of her work. As well as teaching, she works from home writing and illustrating in her art studio.

She is passionate about promoting emotional resilience in children and raising awareness of mental health issues. Her love of teaching sees her kept busy with school visits and presenting at workshops and conferences.