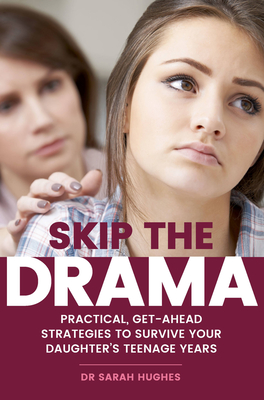 Skip the Drama (Paperback)
Practical, Get-Ahead Strategies to Survive Your Daughter's Teenage Years
Exisle Publishing, 9781925335859, 240pp.
Publication Date: September 4, 2018
* Individual store prices may vary.
Description
Top specialist psychologist delivers new practical, immediate strategies for parents of potentially difficult, rebellious, or irresponsible teenage daughters. Dr Sarah Hughes has modern, helpful advice and tips for every situation, whether your teenage girl is selfish, procrastinating, dieting, on social media, going to parties where there might be drugs and alcohol or just won't get off her mobile phone. Skip the Drama also covers heavy issues such as depression, sex, body confidence and self harm, so caregivers will be equipped to face any problems that come from living with and parenting a stressful teenager. Supported by real-life examples, studies and the latest research into the adolescent brain, Hughes' solutions will help mothers and fathers grow a stubborn, reckless or challenging teenager into a well-adjusted, respectful, and self-sufficient young woman.
About the Author
Dr. Sarah Hughes is a clinical psychologist and the founder and director of Think Clinical Psychologists. She completed her clinical training at the University of Sydney and holds a Doctorate in Clinical Psychology and a PhD in child and adolescent anxiety disorders. She has a decade's worth of experience working with kids, teens, adults, and families experiencing a wide range of difficulties, including: anxiety, depression, eating disorders, and relationship issues. Sarah is also the author of the successful self-help guides, Skip the Drama: Practical, Get-Ahead Strategies to Survive Your Daughter's Teenage Years (Exisle) and Parenting Made Simple (Exisle), and regularly appears on Channel 7's The Morning Show as their parenting expert.
or
Not Currently Available for Direct Purchase