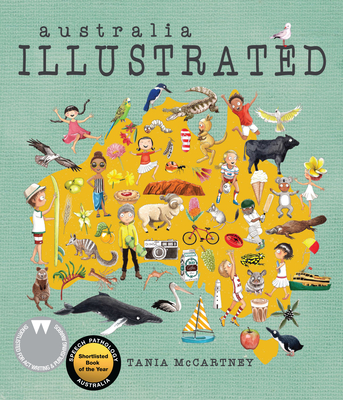 Australia (Hardcover)
Illustrated, 2nd Edition
EK Books, 9781925335880, 96pp.
Publication Date: October 16, 2018
* Individual store prices may vary.
Description
Australia. Big. Beautiful. Diverse. From the First People to washing lines and crocodiles, football and sunshine, koalas and akubras, skyscrapers and beaches that squeak, this 96-page picture book is a glorious tribute to this wide brown land and its rich and varied multicultural communities. Vibrantly illustrated with watercolour, ink and mono-printing, Australia Illustrated not only celebrates the more 'typical' Australian flora, fauna and landmarks, it also showcases the everyday quirks and idiosyncrasies that make Australia unique: the many types of rain, Greek street food, Sydney ferries, cattle breeds, the plants of the Daintree. Even the quokka selfie epidemic is featured! Divided into Australia-wide entries as well as state and territory specific elements, readers will learn more about the endemic plants, animals, foods, landmarks, sports and oddities that make the regions around Australia special. Whimsical, humorous, high in detail, and guaranteed to delight both children and adults, this is a portrait of Australia like you've never seen it before. Grab your snorkel. Let's dive in!
About the Author
Tania McCartney is an author, editor, reviewer and features writer. She has been writing professionally for over 25 years and has almost a thousand articles and reviews in print and online. Passionate about literacy, Tania founded the highly regarded children's literature website Kids' Book Review and the 52-Week Illustration Challenge, and is an ambassador for the Australian National Year of Reading 2012. She has spent many years presenting and speaking on reading, books and writing.
Her previous book with Tina Snerling was the bestselling An Aussie Year. Tania is also the author of the very successful Beijing Tai Tai. Described as 'The Eat, Pray, Love for mothers', this is her account of the four years she spent living in China's capital. Tania has also lived in Paris and London, and currently lives in Canberra with her husband and two kids, and a mountain of books.