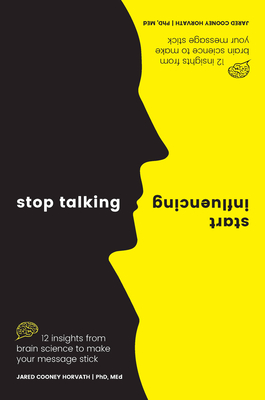 Stop Talking, Start Influencing (Paperback)
12 Insights From Brain Science to Make Your Message Stick
Exisle Publishing, 9781925335903, 304pp.
Publication Date: March 12, 2019
* Individual store prices may vary.
Description
Love it or hate it, we are all teachers. Whether walking clients through a new program, guiding an audience through a novel proposition, or helping our children to kick a soccer ball, nearly every day we work to disseminate knowledge and wisdom to others. The problem is that very few of us have ever been taught how to teach!

Drawing on Jared Cooney Horvath's nearly 15 years of experience conducting brain research at prominent universities, teaching students from 10 to 80 years of age, and working closely with organizations and schools across 4 continents, Stop Talking, Start Influencing outlines 12 scientific principles of how people learn. The result is a book that shows readers how to impart their knowledge to others in a manner that sticks with and truly influences them - regardless of the situation or circumstance. For every business leader sick of repeating themselves ad nauseam to colleagues and clients, for every coach tired of endlessly drilling athletes without seeing meaningful improvement, for every entrepreneur who's had enough of pouring their heart into presentations only to see no lasting impact among the audience ... it's time to stop talking and start influencing!
About the Author
Jared Cooney Horvath PhD, MEd, is a neuroscientist and educator with expertise in human learning, memory, and brain stimulation. He has conducted research and lectured at Harvard University, Harvard Medical School, the University of Melbourne and over 50 international schools.  Jared currently serves as director of the Science of Learning Group and NeuroEducation, two teams dedicated to bringing the latest in brain and behavioural research to education and business alike. His work has been featured in numerous popular publications (including the New Yorker, the Economist, the Atlantic, the New York Times, Scientific American, New Scientist, WIRED, VICE, and Men's Journal) as well as television and radio programs (including NOVA: Science Now and Catalyst).