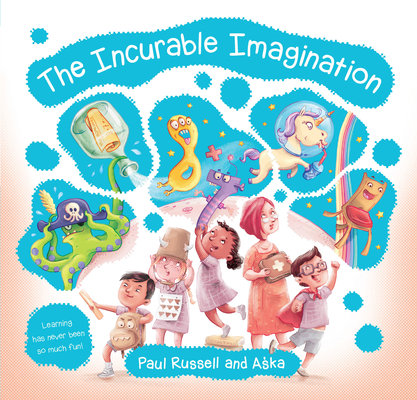 The Incurable Imagination (Hardcover)
Learning has never been so much fun!
EK Books, 9781925335972, 32pp.
Publication Date: April 9, 2019
* Individual store prices may vary.
Description
Audrey has the worst case of 'imaginitis' her teachers have ever seen! While other children paint their families, Audrey paints the ogre who lives under her bed drinking tea. Instead of singing about a black sheep, she writes her own song about a desk with legs that runs away. Her alphabet turns into soup. It's clear that her 'imaginitis' is incurable. What's worse, her condition is contagious and soon the other kids in her class start showing symptoms of an equally incurable imagination! As 'imaginitis' spreads, the teachers are horrified and the parents begin to protest too. But perhaps imagination isn't such a bad disease after all? It might even be useful if it makes learning more fun.
About the Author
Paul Russell is a primary teacher, artist, playwright and children's author with titles including Grandma Forgets, which made the CBCA list of notable picture books in 2018.  He is passionate about the place of imagination and daydreaming in children's learning. He has a daughter who would rather be a princess or a dragon than a regular school student and he is grateful to teachers who embrace this in her education.
AÅ?ka is an award-winning illustrator, artist and scientist. As an Arts and Physics graduate, she has lived all over the world but now calls Australia home. She has also been telling stories through pictures all of her life. Through her illustrations, AÅ?ka loves to create energetic characters with a curious streak — the best type of friend to take on an adventure uncovering the wonderfully diverse and inspiring world around us.