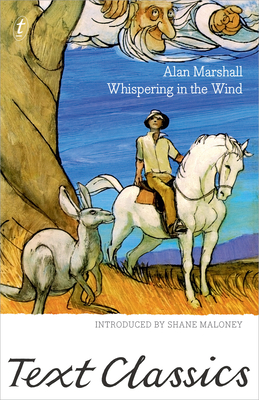 Whispering in the Wind (Paperback)
Text Classics, 9781925773064, 240pp.
Publication Date: June 11, 2019
* Individual store prices may vary.
Description
First published in 1969, a charming children's classic. Peter lives in a bush hut with Crooked Mick, the greatest horse rider in all the world. One day Peter decides to go out and find a princess and rescue her from a dragon. With his horse Moonlight he sets out on his quest. Along the way he meets an array of colourful characters. Each one helps Peter overcome a hurdle and imparts some important life lessons. His loyal sidekick Greyfur, the kangaroo, can procure anything useful from her Tardis-like pouch. There's the South Wind who can travel with great speed and see everything. It points him in the right direction and gives him a magic leaf that will make anyone loved and needed. There's the wicked witch who plans to eat him, until Peter gives her the leaf...
About the Author
Alan Marshall AM [1902--1984], was an Australian writer, story teller, humanist and social documenter. He received the Australian Literature Society Short Story Award three times, the first in 1933. His best-known book, I Can Jump Puddles (1955), told the story of his childhood, during which he contracted polio.