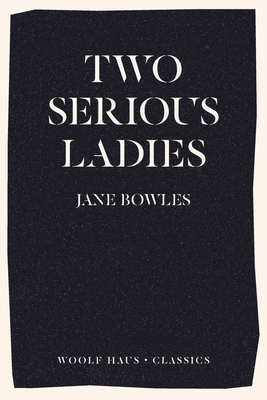 Two Serious Ladies
Paperback

* Individual store prices may vary.
Other Editions of This Title:
Paperback (2/25/2014)
Description
"Two Serious Ladies is a singular achievement - a modernist cult classic." - The Guardian
"The most important writer of prose fiction in modern American letters" - Tennessee Williams
Inspired by the author's honeymoon in Mexico with her husband, the writer and composer Paul Bowles, Two Serious Ladies (1943) is the only novel by avant-garde literary star Jane Bowles. A modernist cult-classic - mysterious, profound, anarchic, and funny - that follows two upper-class women as they descend into debauchery; jettisoning sexual and cultural norms in search of happiness and liberation. Abandoning her family home, Miss Goering decamps to a dilapidated house on an island, but asceticism yields swiftly to increasingly sordid encounters with strange men. Mrs Copperfield dutifully accompanies her husband on a cruise to Panama, but falls in love with a prostitute and is swallowed up by a seedy world of bars and bordellos. When the two meet again, they are much changed - both have suffered the depredations of their deadbeat odysseys, but have found a new strength too.
" Bowles] has a very special way of seeing things ... master of the unforgettable phrase that no one else could have written." - William S. Burroughs
"Bowles's spare, elliptical prose has a hallucinatory quality, pierced by moments of startling clarity and wit. Her characters retain a sphinx-like opacity, as unsettling as it is engrossing." - The Guardian
"A modern legend" - Truman Capote
"Bowles was a dizzyingly original stylist, and the texture of her writing and her dialogue in particular - staccato, self-confidently awkward - is unmistakably her own." - The New York Times
About the author
Jane Bowles (born Jane Auer, 1917-1973) - a daring and stylish modernist - has long had an underground reputation as one of the truly original writers of this century. The author of a novel, Two Serious Ladies, a play, In the Summer House, and a volume of stories, Plain Pleasures. Her genius for spare prose and vivid dialogue had an outsized influence on her contemporaries. Tennessee Williams called her "the most important writer of prose fiction in modern American letters"; Truman Capote said she was a "modern legend"; and for John Ashbery she was "one of the finest modern writers of fiction in any language." Jane Auer grew up in New York City, where as a teenager she became part of a bohemian, bisexual scene, along with the writer Paul Bowles. The pair married in 1938, somewhat impulsively, as both primarily pursued same-sex relationships (when she met Bowles, she told a friend, "He's my enemy"). Jane Bowles belonged to the New York artistic circles of the 1940s before moving with Paul to Paris and Tangier, where she knew Tennessee Williams, Truman Capote, and Gertrude Stein, among others. Though her body of work was relatively small, Bowles has enjoyed a large literary influence, with Edmund White writing that "the luminous pages she left behind comprise some of the best American fiction we have." Besides her literary output, Bowles's letters-to Virgil Thomson, Carl Van Vechten, Carson McCullers, and Paul Bowles, and about John Ashbery, William Burroughs, Aaron Copland, Ira Gershwin, Allen Ginsberg, Sylvia Plath, Paul Robeson, Susan Sontag, Alice Toklas, Gore Vidal, and Eudora Welty, among others-are by turns candid and heartbreaking, both serious and seriously funny. At the age of 40, Jane suffered a debilitating stroke, which brought an early end to her writing. She died in 1973.
"Her dark, furiously readable tales of self-destructive women are plainly influenced by the European existentialists. But her literary method was as American, and as deadly, as a Colt .45." - The Wall Street Journal
Woolf Haus Publishing, 9781925788815, 172pp.
Publication Date: June 11, 2020