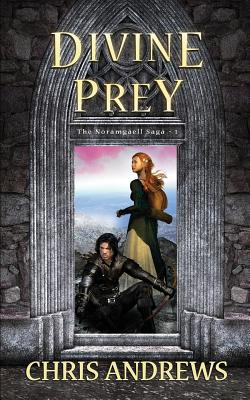 Divine Prey (Paperback)
Creative Manuscript Services, 9781925803037, 404pp.
Publication Date: May 4, 2018
* Individual store prices may vary.
Description
For two-hundred-thousand years the twelve Gods have been trying to outmanoeuvre each other in the ultimate war for supremacy, each God gambling on and influencing events toward their own desired outcome.

With each win or loss another God is forced from the competition, though they still retain their influence and power until the final winner is decided.

The stakes are high. The prize: the universe itself.

Only two Gods remain in the contest; the God of War and the Goddess of Healing. And now a young princess is their focus...

Spoiled and entitled, Princess Caroline duFandelyon soon discovers it's unwise to draw a God's attention, especially a God who wants you dead because their opponent has marked you for their own purposes.

It's only after assassins attack Caroline and she's nearly killed by a werewolf that she learns of a prophecy predicting her rise to power.

Her Gods-granted destiny comes with a price however - she cannot ascend the throne unless her father and siblings are dead, a price she's unwilling to pay.

As the war between Gods escalates, to survive she is forced to rely on the trust she places in her friends, and the curse that's slowly destroying her humanity.

To save herself and everyone she cares about, she will have to outwit her family, her enemies and even the Gods.