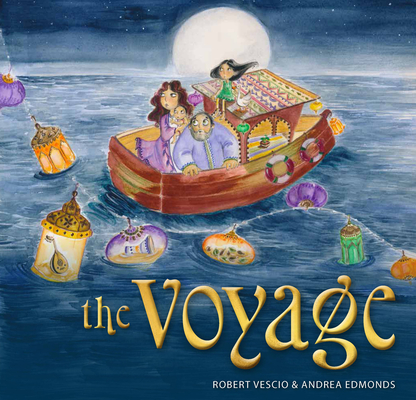 The Voyage (Hardcover)
EK Books, 9781925820034, 32pp.
Publication Date: November 12, 2019
* Individual store prices may vary.
Description
Displaced by war and conflict, a refugee family sets out on a voyage into the unknown. Told in only a few words (one word per page) this is the powerful story of a family fleeing their war-torn country and making a dangerous trip across the ocean to a new life in a new land. 'Chaos' begins the story, as the family escapes. 'Wild' is the midway point, as the small boat battles through a storm. 'Companion' marks the sighting of a whale that briefly keeps them company as their voyage continues. 'Beauty' is the sight of a green, beautiful land ahead of them. 'Safe' is the beginning of their new life in their new home. Simple, yet evocative, The Voyage gives new meaning to the phrase "a picture is worth a thousand words," as Robert Vescio's sparse text and Andrea Edmond's beautiful illustrations encourage young readers to create their own background story and thus identify more deeply with the plight of refugees and those less fortunate.
About the Author
Robert Vescio is a published children's author. His picture books include Jack and Mia (Wombat Books), listed on the NSW Premier's Reading Challenge 2017; Barnaby and the Lost Treasure of Bunnyville (Big Sky Publishing); Marlo Can Fly (Wombat Books), listed on the NSW Premier's Reading Challenge 2015; No Matter Who We're With (IP Kidz); and Bigger Than Yesterday, Smaller Than Tomorrow (Little Pink Dog Books). Many of his short stories have been published in anthologies such as Packed Lunch, Short and Twisted, Charms Vol 1 and The School Magazine NSW. Robert has won awards for his children's writing including First Place in the 2012 Marshall Allan Hill Children's Writing Competition and Highly Commended in the 2011 Marshall Allan Hill Children's Writing Competition. Robert is a Books In Homes Role Model and enjoys visiting schools.
Andrea Edmonds is an artist and illustrator who has worked on children's books, greeting cards, stationery, commissioned artworks and animation. She loves developing story and character ideas fueled by a stash of dark chocolate and countless cups of tea.