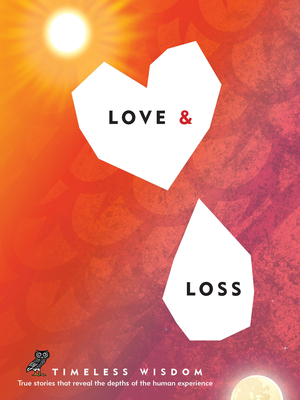 Love and Loss (Hardcover)
True Stories That Reveal the Depths of the Human Experience (Timeless Wisdom #4)
Emotional Inheritance, 9781925820072, 240pp.
Publication Date: March 10, 2020
* Individual store prices may vary.
Description
Time gives us the wisdom to realise a mother's sacrifice, a father's love, a friend's loyalty, or a grandparent's kindness, as loss and love turn to memory. Often as time passes, we can find ourselves looking back at moments in our lives and only then truly being able to explore the defining moments and complex feelings and emotions that make us who we are. These 25 stories of loss and love from around the world are inspiring, brave and heartbreaking reminders of what is most important: life, love, memory, beauty. As author John Green once said, "You can love someone so much … But you can never love people as much as you can miss them."

These real-life stories are moments in people's lives that show us the importance of forgiving,  the tragedy in forgetting and the turmoil of moving on. From a wife in the heart of South Africa, reminiscing on her husband being taken by the river, to an Australian woman contemplating the childhood loss of her baby siblings from a new perspective, or the slow burn of unrequited childhood love in 1950s Canada and more, see how loved ones are honoured in this gripping compilation. Interspersed with apt quotes by people as diverse as Beethoven, Abraham Lincoln, Dr Seuss, John Lennon and C.S. Lewis, Love and Loss is a book that can be read and connected with time and again. Here we can find the timeless wisdom in what makes us all profoundly human.
About the Author
Renée Hollis is an author and photographer who enjoys living in the country. She specializes in non-fiction photograph books and is currently working on a book featuring interviews with people living in New Zealand who are over 100 years old. Renée's love for pigs began when a litter of piglets was born on her birthday and one was named after her. Then she was introduced to A.A. Milne's Piglet before getting to know Wilbur, from Charlotte's Web. But it was a little pig called Babe that captured her heart in the 1995 movie of the same name. Over the years, Renée has discovered that pigs are playful, friendly, sensitive, intelligent animals. Oink is her tribute to these amazing creatures.