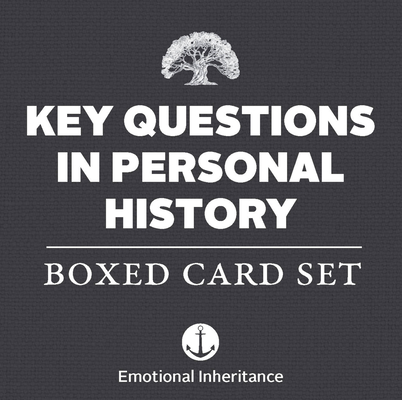 Key Questions in Personal History (Cards)
Boxed Card Set
Emotional Inheritance, 9781925820140, 101pp.
Publication Date: October 15, 2019
* Individual store prices may vary.
Description
Our individual memories define us. Our tribal memories unite us. Emotional Inheritance works with psychologists, writers and historians to provide a premium interview and life story production service. Now, this boxed set of 100 cards provides simple effective questions to help you undertake this process yourself, without an external interviewer. Questions are grouped into categories such as 'Early Childhood', 'Adulthood', 'Marriage and Parenthood', 'The Future' and 'Leaving Advice' so that a structured narrative and lasting legacy can be created from the interviewee's answers.
About the Author
Emotional Inheritance is a specialist division of Exisle Publishing that focuses on helping families to tell the stories of the senior generations. While this is incredibly beneficial to the younger generations, who gain deeper insight into their true inheritance, it is also useful for the person approaching the end of their life, as they find the process both validating and affirming. Emotional Inheritance works with recognized psychotherapists in the field to ensure all products are structured in a way that respects and honors the individual at all times while prompting the recollection of meaningful memories, thoughts and messages that the individual wishes to leave behind — their intellectual and emotional legacy.