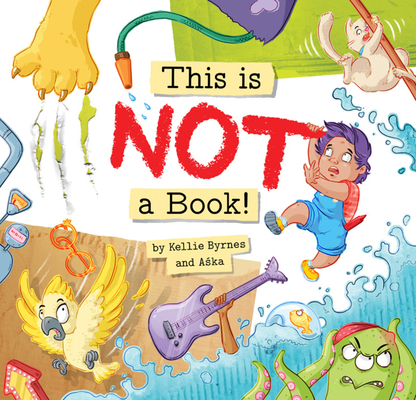 This is NOT a Book! (Hardcover)
EK Books, 9781925820508, 32pp.
Publication Date: October 13, 2020
* Individual store prices may vary.
Description
In this fun-filled, action-packed picture book, our main character is quite convinced she's not in a book. After all, if this was a book, there'd be pages to turn … Oops! We've just turned the page. But that's not conclusive proof this is a book. If it was a book, there'd be interesting settings and problems to solve. Hold on! Why is our lead character being chased by a lion? Why are pirates stealing treasure? And are those mermaids playing in a rock band? This is NOT a Book! is the perfect introduction for kids to how a book is structured and how to tell a good story. It's metafiction made fun!
About the Author
Kellie Byrnes is a children's author, presenter, mentor, book reviewer, kidlit blogger, and full-time freelance writer with a BA degree in Literature. Kellie's first picture book, Cloud Conductor, came out in 2018 followed by Yes! No and Evie Is All Ears. Kellie also has two more picture books, plus her first junior-fiction novel, on the way. An emerging Australian author, Kellie was chosen as an Artist in Residence at The Crows Nest, Queensland, for four months in 2019, thanks to the Sunshine Coast Council. She has also received three separate Regional Arts Development Funding grants from the Sunshine Coast Council to date to help her develop her writing career. Kellie was chosen as a mentee in the 2018 Writing with the Stars picture-book mentorship program in the United States, and as a mentee in the inaugural FicFest writing mentorship program in the United States in 2016. Plus, she has been a judge for two years in the row for the Pitch It writer's competition run by Just Write for Kids Australia, and reviews and blogs about kidlit monthly. Kellie also mentors and provides critiques and marketing services for new authors. She has presented at numerous literary events and bookshops, schools, and early learning centres, and enjoys encouraging children and adults to be creative and to develop their strengths as writers. Kellie has completed a wide variety of writing workshops and courses and attended literary events across Australia and internationally. She is a member of multiple writing groups and an active part of the Society of Children's Book Writers and Illustrators (SCBWI). Kellie has been a full-time freelance writer for over seven years, creating content, including children's stories, for a variety of clients globally. She has written articles, blogs, website content, newsletters, e-books and more for companies such as MYOB, Intuit, Fiji Airways, Skyscanner, Spirit of Tasmania, St. George Bank, Mortgage Choice, Optus, Sheridan, and Bridgestone. She also has experience working in the publishing industry in Australia, in both editorial and sales roles (for Pan Macmillan Australia and Hardie Grant Gift). Plus, she has worked in multiple bookshops during her career. Kellie's love of books, stories, writing, and creativity started from an early age. Today, apart from spending time with her beloved dogs and hanging out with her friends and family or planning her next travel adventure, most of Kellie's time is spent following these literary passions.
AÅ?ka is an award-winning illustrator, artist and scientist. As an Arts and Physics graduate, she has lived all over the world but now calls Australia home. She has also been telling stories through pictures all of her life. Through her illustrations, AÅ?ka loves to create energetic characters with a curious streak - the best type of friend to take on an adventure uncovering the wonderfully diverse and inspiring world around us.