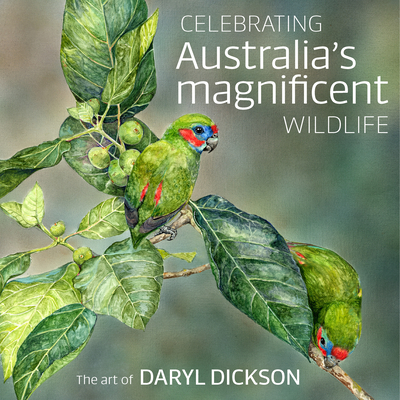 Celebrating Australia's Magnificent Wildlife (Hardcover)
The Art of Daryl Dickson
Exisle Publishing, 9781925820607, 144pp.
Publication Date: October 13, 2020
* Individual store prices may vary.
Description
Celebrating Australia's Magnificent Wildlife is a celebration of Daryl Dickson's beautiful work, informed by her passion for the conservation of wildlife and wild places. From black-winged stilts to brushtail possums, see the variety and colour of Australian wildlife contained in one wonderful book. She highlights the natural beauty of species that deserve to be saved in what is essential reading for anyone with an interest in the natural world.
The work of artists crosses borders, boundaries and language barriers. Painting wildlife does not need language to explain the essence of the beauty, landscape or movement of a creature. This book can be understood and enjoyed by people of any nationality.
Witness the ancient tropical forests and majestic landscapes of northern Queensland, Australia — home to some of the world's rarest and most fascinating species. Dickson's work is inspired by the incredible diversity of flora and fauna she lives amongst, which are rich and colourful in the diverse, thriving valley she calls home.
Dickson's techniques have varied in medium, from illustration to watercolour and many in between, but nature has always been the key element of her art. View a lifetime of artworks and share in her journey to becoming an artist, showcased in this large-format, beautifully designed book that is an essential addition to coffee tables everywhere.
About the Author
Daryl Dickson is an award-winning painter and illustrator with a passion for the natural environment and wildlife rehabilitation. Originally from London, she now lives in Far North Queensland. She has received an Australia Day Award for her work in environmental education, wildlife rescue, Cassowary Award, and the Drawing prize at the Hinchinbrook Bird Life Art Awards. Unsurprisingly, all of Daryl's illustration work involves nature and animals, such as the picture book Paddy O'Melon: The Irish Kangaroo. She now works full-time producing original artworks and a range of wildlife cards and prints. Her greeting cards & artwork prints are popular with tourists are from around the world including the USA, Europe and NZ. Daryl and her husband devote much of their time to caring for injured native animals. Their home is shared with an amazing diversity of wildlife, providing endless inspiration, interest and color which she channels into her artwork.