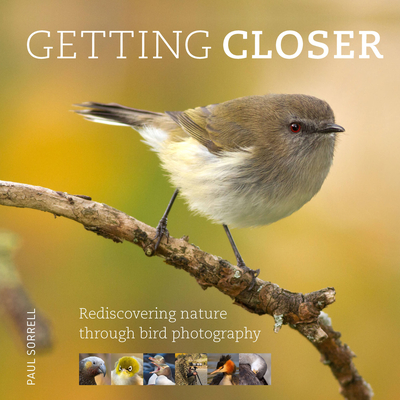 Getting Closer
Rediscovering Nature Through Bird Photography
Hardcover

* Individual store prices may vary.
Description
Getting Closer is a beautifully illustrated discussion of photography as a way of achieving greater intimacy with the natural world.

With a focus on birds, the book is directed primarily at photographers (of all levels of skill and experience), but also at birders, people interested in the outdoors, and those who would simply like to achieve a deeper connection with the natural world. The introduction makes the case for reconnecting with nature in a way that will draw in a wide range of readers, not just photographers. We have to reconnect, as most of us have lost the spontaneous bond with nature we enjoyed as young children and, in the face of impending ecological disaster, reconnecting with nature is our most urgent task.

The author offers a simple, practical path for readers to begin to 'rewild' themselves. This is the focus of the second part of the book, where the author explores ways of becoming attentive to the natural world around you, wherever you may live. Through self-contained spreads on topics ranging from 'the four seasons' and 'winds and tides' to 'flight shots' and 'colour and texture', he introduces basic, hands-on techniques that, with practice, will enable readers to both deeply connect with their environment and become proficient wildlife photographers. 'Top tips' on each spread provide technical information aimed at more serious photographers.
Praise For Getting Closer: Rediscovering Nature Through Bird Photography…
It's rare that I get through a book in less than one day and I put this down to the fact that this one makes compelling reading.… I look forward to absorbing and practising the book's excellent content.—Better Photographs

Whether you're an old hand at photographing birds, or eager to get started (especially now!), it's an excellent read. Highly, highly recommended!—Dr. Jessie Voigts, Wandering Educators

Paul Sorrell is a photographer, writer and editor with a life-long interest in the natural world. His new book, Getting Closer, aims to help us reframe our relationship with nature through bird photography.—True Blue (Rex Airlines) Magazine

Getting Closer is a beautiful practical guide to photographing nature. It includes many stunning photographs and is perfect for all who are interested in photography.—Let's Find Out (published by Science Teacher's Association of Victoria)

Full of stunning photographic inspiration, Getting Closer presents photography as a way of achieving greater intimacy with the natural world.—RACQ Living

Gives readers some priceless tips on how to capture images of the natural environment.—The Gardens Magazine (Friends of the Royal Botanic Gardens Sydney)

As a wildlife photographer, I found this to be a very comprehensive book that can be used as a guide for beginners, intermediates and professionals… [I] highly recommend it as a must have book to be used in the field and for post-production.—The Avicultural Society of Australia Journal

Pear of Hope is like a comforting canopy of sweetness to gain warmth and nourishment from, for all and especially those with difficult life circumstances.—Just Write for Kids

EK Books really does publish some excellent books for those big issues and this story really brings this topic alive, ready for heartfelt discussion.—Educate Empower

Offers hands-on techniques that will enable readers to connect deeply with their environment and become proficient wildlife photographers.—Australian Wildlife
Exisle Publishing, 9781925820638, 144pp.
Publication Date: February 23, 2021
About the Author
​Paul Sorrell took up photography in the early 2000s, giving him a new form of creative engagement with his longstanding interest in wildlife and the natural world. His images have featured in local, national and international wildlife photography competitions, and he has published online and print pieces for outlets ranging from airline magazines to Tourism New Zealand's website and the School Journal. He has worked in the area of books and publishing since the 1980s, copy-editing, writing for academic and popular journals, and publishing four books about his home province of Otago with Penguin Random House.