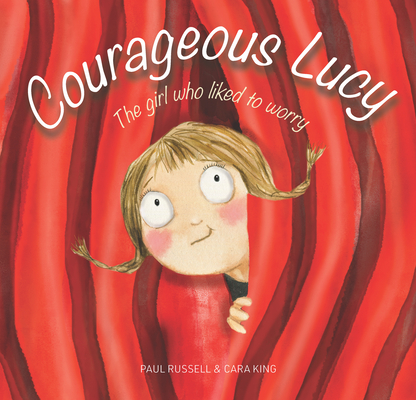 Courageous Lucy
Hardcover

* Individual store prices may vary.
Description
Lucy worries about everything and she worries a lot. She's so skilled at worrying that she worries about new and interesting things no one else even thinks about! But when Mrs Hunt tells the class there is going to be a school musical, Lucy decides she wants to be a part of it. She's too worried to try out for any of the parts, but Mrs Hunt finds the perfect role for her. Being a piece of the landscape may not suit everyone, but Lucy puts everything into being the best tree she can, and with a sprinkle of courage she stands proud and tall as her knees knock and her tummy ties in knots. She becomes the best tree anyone can ever remember! Lucy may worry, but she also knows that sometimes she can be courageous too, showing children everywhere that it's okay to be worried and still embrace opportunities!

Courageous Lucy doesn't ignore anxiety in children or offer a hollow solution to 'just be brave'. Although her experiences don't totally change Lucy, they show her that while stepping out of your comfort zone always takes courage, once you do, wonderful and magical things can happen. Just taking one tiny step and deciding that you want to do something is sometimes all it takes to be courageous.
EK Books, 9781925820775, 32pp.
Publication Date: February 9, 2021
About the Author
Paul Russell is a primary teacher, artist, playwright and children's author. Having been in classrooms for over 30 years, it really isn't surprising that all of his heroes are teachers. Paul is particularly passionate about children's literacy and in building an appetite within children for the written word and sharing stories. Paul is the author of My Storee (2018, EK Books), The Incurable Imagination (2019, EK Books), The Incredibly Busy Mind of Bowen Bartholomew Crisp (2021, EK Books) and Courageous Lucy (2021, EK Books). He has won awards for his stories, with Grandma Forgets making the CBCA list of notable picture books in 2018.
Cara King initially studied anthropology before moving across to multimedia and starting her own design business, Caratoons. As a designer and illustrator, she has produced images for T-shirt designs, books, cards and posters. She has been drawing for many years and loves working with watercolours and pencils. Her first picture book, Mummy and Mumma Get Married, was published in 2015. She is the illustrator of The Box Cars (2019, EK Books), Scaredy Book, and The Battle (2020, EK Books).