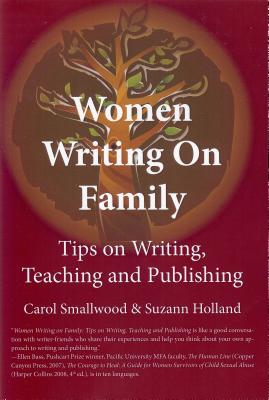 Women Writing on Family (Paperback)
Tips on Writing, Teaching and Publishing: Tips on Writing, Teaching and Publishing
Key Publishing House Inc, 9781926780139, 343pp.
Publication Date: January 10, 2012
* Individual store prices may vary.
Description
This book provides guidance and insight for women who write about family. Award-winning women writers from all walks of life share their experiences in planning, composing, editing, publishing, teaching, and promoting work in a variety of writing genres. Readers will learn to tackle sensitive family issues and avoid pitfalls in memoir writing, poetry, fiction, and others. Filled with tips, exercises, and anecdotes, this anthology is appropriate for both well-seasoned writers and those just beginning.
About the Author
Carol Smallwood's work has appeared in English Journal, Michigan Feminist Studies, The Yale Journal for Humanities in Medicine, The Writer's Chronicle, and the Detroit News. She's included in Best New Writing in Prose 2010, Who's Who in America, and Contemporary Authors. She edited Writing and Publishing: The Librarian's Handbook, and is a National Federation of State Poetry Societies Award winner. Lily's Odyssey and Contemporary American Women: Our Defining Passages, are recent books. Suzann Holland, currently director of the Monroe Public Library in Wisconsin, earned both an MLIS and an MA in history from University of Wisconsin in 2000. Previous writings have appeared in VOYA, the PLA Reader for Public Library Directors and Managers, and Local & Regional Government Information (How to Find It, How to Use It). She is currently working with the permission of the Laura Ingalls Wilder Estate on her first solo book, The Little House Literary Companion.
Praise For Women Writing on Family: Tips on Writing, Teaching and Publishing: Tips on Writing, Teaching and Publishing…
"Family is what creates us, sustains us, bedevils us, confuses us, loves us, destroys us, and defines us. For writers--particularly women writers--family is also a rich vein of subject matter that can be both nourishing and overwhelming, often at the same time. This volume examines a wide variety of family-related issues from points of view that range from the practical to the philosophical, but all focused on how they impact women who write."
Eleanor Lerman, author of The Sensual World Re-Emerges (Sarabande Books, 2010) and Janet Planet (Mayapple, 2011), among other volumes
"Women Writing on Family: Tips on Writing, Teaching and Publishing is like a good conversation with writer-friends who share their experiences and help you think about your own approach to writing and publishing. If you want to preserve your family history for future generations, write a memoir, or just explore your own family's stories, this book is full of accessible and useful suggestions."
Ellen Bass, poet and faculty in the Pacific University MFA program; The Human Line (Copper Canyon Press, 2007)
"From how to deal with relatives who feel betrayed to finding bits of time to write while raising children to blogging and writing for the internet, Women Writing on Family: Tips on Writing, Teaching and Publishing is a major resource for women who write about family in nonfiction, fiction, and poetry. Lela Davidson's essay about using research and creative imagination to bring your ancestors to life on the page, Rosemary Moeller's on writing with respect about devoutly religious families and communities when you are a freethinker, and Kezia Willingham's on taking the risk to write your own truth are just a sampling of the gems of advice, technique, professional tips, and encouragement that make up this valuable book."
Linda Rodriguez, Heart's Migration (Tia Chucha Press), 2010 Thorpe Menn Award for Literary Excellence
"This is a comprehensive work that belongs on any nonfiction writer's bookshelf. Not only does it address the legal and emotional costs that come with the challenge of writing about family, it offers insights into how one can nurture a rewarding writing career in conjunction with a demanding day job and family obligations."
Jennifer Tang, New York City librarian and freelance writer for Newsweek, L.A. Times, and Fitness Magazine
"This extraordinary collection of insightful, well-written essays will serve splendidly as both guidebook and motivator for any woman who is writing seriously and living her life fully. Matters as diverse as family dynamics, realistic time-management, marketing strategies---even ways of writing more effectively are covered here with great sensitivity and common sense."
Marilyn L. Taylor, Ph.D., Wisconsin Poet Laureate, 2009-2010; Going Wrong (Parallel Press, 2009)
"Writing about family carries out the writing instructor's dictum of writing about what you know, but brings along the very family issues that draw writers to the subject in the first place. Besides a range of thoughtful pieces that capitalize on family strengths yet confront any issues head on, Women Writing on Family offers new writers sage advice on finding the time to write, using the Internet to advantage, and successfully publishing their work on any topic."
Phyllis Holman Weisbard, University of Wisconsin System Women's Studies Librarian, and Publisher, Feminist Collections: A Quarterly of Women's Studies Resources
"With all the rhetoric today about family, it is nice to see a volume that actually deals with family in way that is creative, honest, and tasteful. Women Writing on Family: Tips on Writing, Teaching and Publishing provides sensible guidelines to use and savor. Not to be missed by those studying family history. The stories and ideas contained within are jewels of wisdom that women will find useful. Oh and men can get something out of this book too!!!!"
Robert G. Weiner, associate humanities librarian, Texas Tech University; contributor, History of the Holocaust (Routledge, 2011); Editor, Captain America and the Struggle of the Superhero (McFarland, 2009)
"The essays in Women Writing on Family: Tips on Writing, Teaching and Publishing are written by experts in the field who balance keen intellect and practical tips with a sensitivity for personal histories. This is an a must have work for anyone interested delving into the complex and rich world of family histories."
Sarah Passonneau, Iowa State University, assistant professor
"It is only natural for women, traditional keepers of language and storytellers, to share their experience on writing memoirs and recording a family history. From conception to delivery, this anthology covers a wide variety of aspects that a woman writer may encounter on her journey."
Vera Gubnitskaia, Youth Services Manager, Orange County Library System; contributor: Librarians As Community Partners: An Outreach Handbook (ALA editions, 2010)
"As women, we have unique perspectives on life experiences. These experiences deserve an audience. This book will be invaluable to women needing guidance with the emotional, ethical, and professional avenues of getting their stories in print."
Colleen Driscoll, Breitung Township Schools, Michigan, Media Specialist
"If you're interested in learning how to craft and market stories about family, Women Writing on Family features a wealth of experienced writers and editors to help you through every phase of the process.  This comprehensive book deals honestly with the emotional, legal and practical aspects of writing close to the heart."
Kerol Harrod, Writer/Co-Producer of Library Larry's Big Day, Denton Public Library, Denton, Texas; First-Place Winner of 2010 TATOA Programming Awards
"This is a book of practical advice on writing about a sometimes messy subject, the family. Read the whole thing through, or dip in a topic you are interested in, and you'll come away with a clear view on how to start and finish writing."
Wayne Jones, Queen's University, Kingston, Ontario
"People interested in writing, teaching, and publishing family-focused stories, narratives, poetry, or books will appreciate the practical and helpful contributions in Women Writing on Family: Tips on Writing, Teaching, and Publishing. Including tips on writing fiction and nonfiction as well as publishing, marketing, and promotion, this excellent anthology is timely, important, and especially relevant for writers interested in the family."
Donald G. Frank, Professor Emeritus, Portland State University
"Just as every place has a story, so does every family. Women Writing on Family gives you the essentials on writing, teaching and publishing about family. Real, detailed advice from women who know. If you want to share your family stories, this book is not to be missed."
Chris Helvey, author of Purple Adobe and Editor-in-Chief of Trajectory
"From finding inspiration to practical advice about marketing and legal issues, these experienced authors' essays serve as a roadmap for anyone putting pen to paper to capture their family's story."
Jason Kuhl, Library Operations Director, Arlington Heights Memorial Library, Arlington Heights, Illinois
"The contributors, all published authors, to Women Writing on Family: Tips on Writing, Teaching and Publishing provide invaluable help to women authors on the more difficult than expected task of turning their family experiences into quality, marketable literary works. This rich treasure trove of advice ranges from finding time to write to crafting family history through a personal style to publishing and promoting the resulting publications in the Internet age."
Dr. Robert P. Holley, Wayne State University, Detroit, Michigan, contributor, Writing and Publishing: the Librarian's Handbook (ALA Editions), 2010, author of over one hundred publications
or
Not Currently Available for Direct Purchase